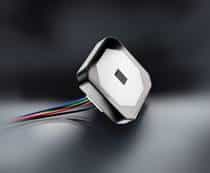 Santa Rosa, California, August 10th, 2023 – SCHURTER introduces the innovative THS switch series with optical sensor technology that can be concealed behind any surface without the need for mounting holes. A small opening in the user interface is all that is needed to allow the ToF sensor to actuate.
Equipment and appliances used in public areas has created demand for non-contact switches to replace conventional touch-activated switches. The THS is a touchless switch that provides an excellent hygienic solution to prevent the spread of pathogens. It not only serves its practical purpose as a momentary switch, but also adds an element of design for out of the ordinary sleek and sophisticated custom user interface design. Conventional switches and touchless switches currently on the market require larger mounting holes in the user interface. The THS breaks through these limitations with its unique ability to adhere behind any material for literally an invisible installation, offering an optimal solution for design engineers to use unprecedented creativity and freedom in their panel designs.
Equipped with cutting-edge optical ToF (Time-of-Flight) sensor technology, the THS is highly reliable and guarantees exceptional precision. With only a barely visible slit in the interface surface, the sensor is activated and accurately calculates distances based on the speed of light and transit time through the emission of light beams and the detection of their reflections. The 30 x 30 mm switch is insensitive to water and daylight irradiation and offers RGB multicolor surface illumination for optical feedback. The illumination supply voltage is 5-28 VDC. The THS has a switching current and voltage maximum of 100 mA at 42 VAC / 60 VDC and a product lifespan of more than 100 million switching cycles: a benefit of no moving parts.
The installation of the THS is straightforward and provides freedom to choose materials that are easy to clean and present a seamless user interface. With no compromise to its performance or functionality, the THS adheres discreetly behind any surface material with 3M Adhesive tape. The standard THS is designed to mount behind a glass surface up to 2mm thick. SCHURTER offers a complete Design-In Kit that can be easily operated via PC/laptop to test and adapt the use of the THS with different materials and surface thicknesses. The Design-In Kit offers settings such as distance, time, and illumination that can be easily customized to suit specific requirements.
Pricing for the THS starts at $65.00 each at 1 piece. Link to THS Datasheet. Link to Landing Page. For sales and product information, contact Savannah Lee at (800) 848-2600 or by email at [email protected].
About SCHURTER Inc
The SCHURTER Group is the world's leading Swiss technology company providing components that ensure safe power supply and simplified equipment operation. The company's professional competence, innovative strength, and distinctive corporate culture, propel the SCHURTER Group, together with its customers and partners, into the digital future. The safe&easy brand claim not only refers to the products, but also the company's business philosophy, which strives for sustainable success through innovation, high-quality products and service, flexibility, and proximity to customers.
SCHURTER is known globally as an innovator, manufacturer and distributor of fuses, connectors, circuit breakers, switches, and EMC products. SCHURTER products and solutions are developed especially for specific industry segments – medical, data and communication, automotive, avionics & space, energy, and the broader industrial market. SCHURTER considers the quality of its products and services as the key factor to the company's lasting success. Its management and improvement processes are designed and certified according to ISO 9001, ISO 13485, ISO 14001, ISO 45001 and IATF 16949, using the EFQM and Baldrige Excellence Models, as well as the application of Lean Management principles such as Value Stream Planning, Power Innovation, SSO, and Six Sigma.
SCHURTER Inc, Santa Rosa, California is the exclusive North America sales and distribution office for the SCHURTER Group.