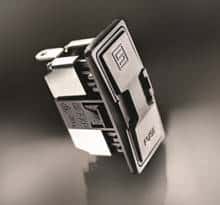 Santa Rosa, California, June 8th, 2023 – SCHURTER, a leading provider of electronic components, is proud to announce its new FXP fuseholder with increased power ratings. The closed fuseholder provides a solution to a longstanding industry challenge that involves power dissipation limitations for fuseholders used at higher operating currents and temperatures.
SCHURTER's new FXP sets a new benchmark in performance and versatility as the market's first fuseholder for 6.3×32 fuses to comply with the upcoming extension of the IEC standard 60127-6.  Taking the lead in addressing critical needs for fuseholders with greater thermal performance, SCHURTER initiated the extension to IEC 60127-6, which increases the rated current from a maximum 16 A to 25 A. Accordingly, the innovative FXP high-performance shock-safe fuseholder carries the 25 A rating at 500 VAC. It also doubles the power acceptance rating from 4 to 8 watts at Ta +23˚C.
VDE approved at 25 A at 500 VAC and cURus approved for maximum 45 A at 600 VAC/VDC, the robust FXP is exceptionally compact, which allows for easier integration into space-constrained applications. In addition to high thermal performance, the FXP also meets stringent vibration and shock tests, making it ideal for heavier duty applications. It is IP40 rated, and salt mist tested.
Designed for streamlined assembly, the FXP provides a unique snap-in system for quick installation. The FXP features solder terminals, ensuring secure and reliable electrical connections. Shock-safe and accessible by tool only, the FXP fusedrawer prioritizes safety against accidental tampering. The fusedrawer is retained to the fuseholder to prevent accidental loss. The FXP is RoHS compliant and bears the CE, UKCA, and REACH markings. Pricing for the FXP starts at $13.61 each at 100 pieces. Link to FXP Datasheet. Link to FXP Landing Page. For sales and product information, contact Savannah Lee at (800) 848-2600 or by email at [email protected].
About SCHURTER Inc
The SCHURTER Group is the world's leading Swiss technology company providing components that ensure safe power supply and simplified equipment operation. The company's professional competence, innovative strength, and distinctive corporate culture, propel the SCHURTER Group, together with its customers and partners, into the digital future. The safe&easy brand claim not only refers to the products, but also the company's business philosophy, which strives for sustainable success through innovation, high-quality products and service, flexibility, and proximity to customers.
SCHURTER is known globally as an innovator, manufacturer and distributor of fuses, connectors, circuit breakers, switches, and EMC products. SCHURTER products and solutions are developed especially for specific industry segments – medical, data and communication, automotive, avionics & space, energy, and the broader industrial market. SCHURTER considers the quality of its products and services as the key factor to the company's lasting success. Its management and improvement processes are designed and certified according to ISO 9001, ISO 13485, ISO 14001, ISO 45001 and IATF 16949, using the EFQM and Baldrige Excellence Models, as well as the application of Lean Management principles such as Value Stream Planning, Power Innovation, SSO, and Six Sigma.
SCHURTER Inc, Santa Rosa, California is the exclusive North America sales and distribution office for the SCHURTER Group