PacketMicro has expanded its HSProbeTM product family for printed-circuit board testing with a 12-GHz probe. Equipped with rugged BeCu probe tips, the new 12-GHz probe is ideal for RF and power-integrity testing that requires direct probing on top of circuit components or test pads on an uneven surface.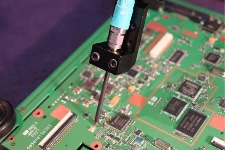 "Constant shrinking size of circuit components makes soldering semi-rigid RF cables to test gigahertz circuits impractical," PacketMicro CTO Richard Zai said. "The rugged RF probe and calibration substrate allow engineers to perform probe-tip calibration for accurate and repetitive RF measurements."
The HSProbeTM family is specifically designed for bench-top testing of large PCBs. The RF probe comes in five different probe pitches, and the calibration substrate (TCS50) provides the SOLT standards for probe-tip calibration. Together, the RF probes (RP-GR-1215 series), PCB holder (VPH100 series) and Flex Positioner (TP60) are ideal for S-Parameter and TDR measurements required in RF, power-integrity and signal-integrity measurements.