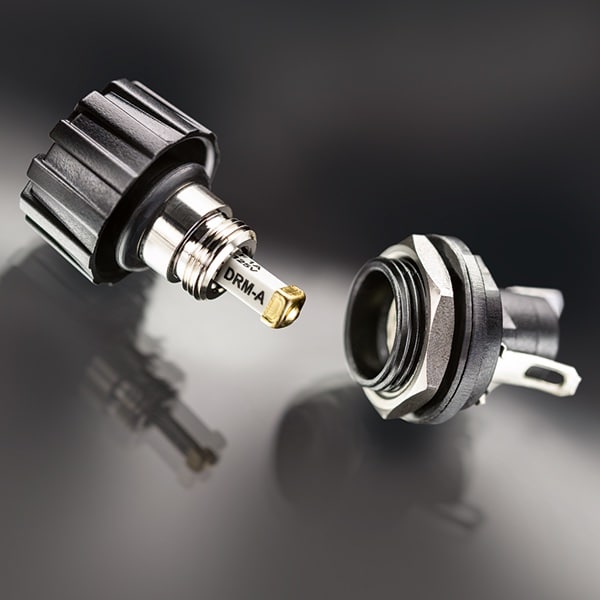 Santa Rosa, California, – SCHURTER introduces the FRM-A panel mount fuse holder with DRM-A SMT fuse: a small, light, and robust circuit protection solution designed for avionics applications. The extreme-performance circuit protection system is the most compact in its class, measuring <15mm deep behind the panel.
The ultra-compact FRM-A fuse holder is originally designed to withstand harsh environmental conditions in the avionics industry, and qualified for use up to 50,000 feet. However, its modest dimensions and high ingress protection rating of IP67 make it ideal for use in any challenging environment. The FRM-A has successfully passed vibration, shock, and salt mist tests according to NF C 20-7XX and IEC 60068-2-XX, confirming its exceptionally robust design. It is built according to UL 4248-1 and CSA C22.2 no. 4248-1 and developed exclusively for use with SCHURTER's SMT ceramic fuse DRM-A.
The DRM-A is a fast-acting ceramic SMT fuse built according to UL 248-14. It uses gold plating on the endcaps to prevent against tin whiskers. It was designed, developed, and explicitly qualified for avionics applications, featuring a pre-arcing time rated for an altitude of 50,000 feet, but is clearly suitable for any application requiring an equivalent reliable and robust design. It features direct solderability to the PCB and is impermeable to potting compounds often used in applications required to meet ATEx and IECEx. Rated 0.5-8A at 250 VAC and 125 VDC, the DRM-A also meets similar IEC environmental tests as the FRM-A, as well as additional MIL-STD-202 tests.
Used together or the fuse separately, the FRM-A and DRM-A have a broad range of application use in industrial markets, AV/IT applications according to IEC/UL 62368-1, as well as household appliances according to IEC 60335-1. The fuse holder and fuse combination also comply with end-user safety and sustainable product standards, and correspondingly carry the marks for CE, UKCA, RoHS, China RoHS, UL, Halogen Free, and Reach.
Link to FRM-A Datasheet. Link to DRM-A Datasheet. Link to Landing Page. For sales and product information, contact Savannah Lee at (800) 848-2600 or by email at [email protected].
About SCHURTER Inc
The SCHURTER Group is the world's leading Swiss technology company providing components that ensure safe power supply and simplified equipment operation. The company's professional competence, innovative strength, and distinctive corporate culture, propel the SCHURTER Group, together with its customers and partners, into the digital future. The safe&easy brand claim not only refers to the products, but also the company's business philosophy, which strives for sustainable success through innovation, high-quality products and service, flexibility, and proximity to customers.
SCHURTER is known globally as an innovator, manufacturer and distributor of fuses, connectors, circuit breakers, switches, and EMC products. SCHURTER products and solutions are developed especially for specific industry segments – medical, data and communication, automotive, avionics & space, energy, and the broader industrial market. SCHURTER considers the quality of its products and services as the key factor to the company's lasting success. Its management and improvement processes are designed and certified according to ISO 9001, ISO 13485, ISO 14001, ISO 45001 and IATF 16949, using the EFQM and Baldrige Excellence Models, as well as the application of Lean Management principles such as Value Stream Planning, Power Innovation, SSO, and Six Sigma.
SCHURTER Inc, Santa Rosa, California is the exclusive North America sales and distribution office for the SCHURTER Group