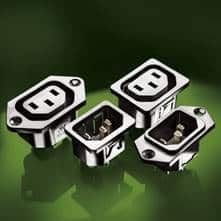 Santa Rosa, California, July 27th, 2023 – SCHURTER further embarks on its sustainability initiatives by introducing its new Green Line collection of high-quality components. As part of SCHURTER's sustainable strategy, these IEC 60320-1 appliance connectors are the industry's first to contribute to less CO2 emissions and lower material consumption. They are also first in the SCHURTER range of Green Line products to be introduced in the ensuing months and coming years.
Plant-based raw materials have a CO2-neutral footprint over the entire life cycle, which leads to a significant reduction in CO2 emissions. Accordingly, bio-based plastics contribute to CO₂ reduction of up to 68% compared to fossil plastics. In addition, bio-based plastics often have a lower density than fossil plastics, resulting in lower material consumption.
The Green Line is one part of SCHURTER's sustainable strategy and is covered in the focus category "Products and Materials", which is among other focus topics like "Employees & Leadership", "Production and Infrastructure" and "Partners and Supply Chain". Key requirements for the development of the Green Line include maintaining CO2 Neutral raw material over the whole life cycle with end-of-life recyclability. The raw material selected must not compete with food production, and new material must have Equal or better technical characteristics. Ultimately, the resulting CO2 savings must be significant. SCHURTER has set its standards high with its commitment to reduce its carbon footprint by 50% by 2035.
The SCHURTER product series 6100-3, 6100-4, 6102-3, 6102-5, 6600-3, and 6600-4 IEC 60320-1 appliance connectors are already established on the market and now also available with bio-based plastics. The new bio-based collection of inlets and outlets are rated up to 10 A at 250 VAC and 50 Hz according to IEC & CCC and up to 15 A at 250 VAC and 60 Hz according to UL.
The new Green Line is moderately priced starting at $0.98 each in quantities of 500 pieces. Link to Landing Page. For sales and product information, contact Savannah Lee at (800) 848-2600 or by email at [email protected].
About SCHURTER Inc
The SCHURTER Group is the world's leading Swiss technology company providing components that ensure safe power supply and simplified equipment operation. The company's professional competence, innovative strength, and distinctive corporate culture, propel the SCHURTER Group, together with its customers and partners, into the digital future. The safe&easy brand claim not only refers to the products, but also the company's business philosophy, which strives for sustainable success through innovation, high-quality products and service, flexibility, and proximity to customers.
SCHURTER is known globally as an innovator, manufacturer and distributor of fuses, connectors, circuit breakers, switches, and EMC products. SCHURTER products and solutions are developed especially for specific industry segments – medical, data and communication, automotive, avionics & space, energy, and the broader industrial market. SCHURTER considers the quality of its products and services as the key factor to the company's lasting success. Its management and improvement processes are designed and certified according to ISO 9001, ISO 13485, ISO 14001, ISO 45001 and IATF 16949, using the EFQM and Baldrige Excellence Models, as well as the application of Lean Management principles such as Value Stream Planning, Power Innovation, SSO, and Six Sigma.
SCHURTER Inc, Santa Rosa, California is the exclusive North America sales and distribution office for the SCHURTER Group.