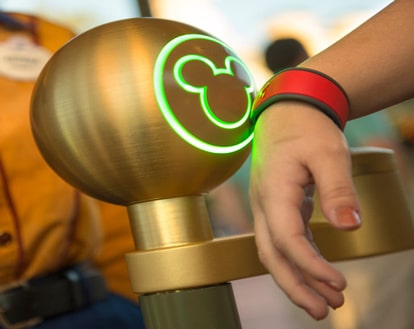 Disney World has announced plans to introduce a new radio-frequency identification (RFID) program known as "MyMagic+" later this year. The program aims to make navigating crowded Disney parks less inconvenient and daunting, and will be used to track vi­­sitors and provide a more "personalized interaction." ­
"We want to take experiences that are more passive and make them as interactive as possible," Bruce Vaughn, chief creative executive for Walt Disney Imagineering, said. The company wants to move from "Cool, look at that talking bird,' to 'Wow, amazing, that bird is talking directly to me."
Using new website and app "My Disney Experience," visitors will have the option of preselecting three FastPasses—free tickets that can be used to skip to the front of a ride line or gain V.I.P seating—before they arrive at the park. Visitors will also have the option of preregistering for a "MagicBand," a wireless rubber wristband that can be optimized to act as a hotel room key, theme park admission ticket and credit card.
MagicBands can also be encoded with personal data which, while allowing for a more personalized interaction with Disney employees, can also potentially become fodder for the ongoing debate surrounding personal data collection, especially from children.
"I may walk in and feel good about giving information about myself and my wife, but maybe we don't want to give much about the children," Thomas O. Staggs, chairman of Disney Parks and Resorts, said.
The company plans to offer visitors the option to customize how much personal information will be available. The wristbands will also require a PIN number for purchases over a certain monetary limit and can be deactivated if lost or stolen.