MILMEGA Ltd., was recently presented with the Queen's Award for Enterprise in Innovation for developing amplifiers, based on its  design methodology using gallium nitride-based transistor technology.
Lord Lieutenant Major General Martin White CB CBE JP presented the award to the company on behalf of Queen Elizabeth at a ceremony held at the Priory Bay Hotel in Seaview, UK, Friday, Sept. 28.
The Queen's Award for Innovation is awarded to UK businesses to recognize outstanding innovative achievements relative to their operational size. To win the award, MILMEGA was required to demonstrate conti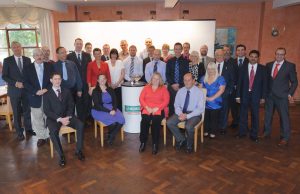 nuous innovation and development over a period of five years resulting in substantial improvement in the performance of the company. The award is only given to organizations that can demonstrate a high level of corporate responsibility.
MILMEGA Ltd. is a specialist designer and manufacturer of high power, solid state
broadband RF and microwave amplifiers.
For more information, visit MILMEGA Ltd.