As part of a strategic investment programme, TMD Technologies Ltd (TMD), world class West London based manufacturer of advanced equipment for the microwave industry, has taken a share in Diamond Microwave Ltd (DML), a specialist in high-power solid-state microwave amplifier products utilising gallium nitride (GaN) and GaAs technology.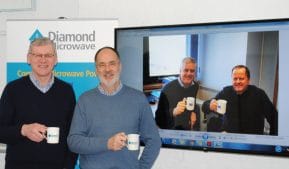 Diamond Microwave has been a pioneer in the development and manufacture of advanced compact GaN-based microwave high-power solid-state power amplifiers (SSPA) for the radar, electronic warfare (EW), communications and aerospace sectors. DML's chip and wire GaN technology is particularly suited to these demanding applications, where their power-to-volume performance is a leading-edge capability differentiator.
Commented Dave Brown, TMD's Group CEO "We have been collaborating with Diamond Microwave for several years and are very pleased with this latest development, which is a logical step forward in our business relationship. Their specialised technological expertise has proved particularly successful across the aerospace and defence industries and complements our current technologies targeted at this market sector. We are looking forward to increased involvement with this forward-looking company – to our mutual benefit".
DML's CEO, Dr Richard Lang commented: "We are delighted to welcome TMD as an investor. This is a welcome step in enhancing our existing relationship and further developing our joint interests in world-class amplifier products. TMD is an ideal partner for DML, bringing the possibility of new channels through which to develop and exploit our solid-state power amplifier technology."