In addition to the usual restrictions prohibiting alcohol, food and weapons from being brought into the Superdome, Super Bowl XLVII attendees were subject to an additional restriction this year—a ban on wireless equipment that might interfere with the Superdome Wi-Fi network.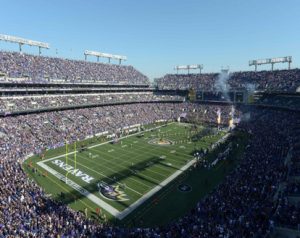 "The NFL has a very robust frequency coordination solution in place," Dave Stewart, director of IT and production for Superdome management firm SMG, said. "Every device that enters the building has to go through a frequency scan and be authorized to enter. At the perimeter the devices are identified and tagged. If they present a potential for interference, they are remediated at that moment. Either the channel is changed or it is denied access."
The goal is to prevent any "rogue access points or rogue equipment from attempting to operate in the same frequency [as the Superdome Wi-Fi]," he added.
To monitor the wireless network during the game, the Superdome utilized spectral analysis equipment to detect and remediate any interference as quickly as possible.
"You can't stop a laptop from coming in. Working press needs to use that," he said. However, "anyone who enters the facility has the ability to become a rogue by [switching to wireless networking] mode."
Officials are still investigating the cause of the blackout that left the stadium in the dark for 34 minutes during the second half of the game. No official cause has been released yet.
For more information, visit Ars Technica.