I-PEX will start providing samples of the LIGHTPASS™-EOB 100G with a built-in microprocessor using I-O Core's silicon photonics IC "Optical I/O Core".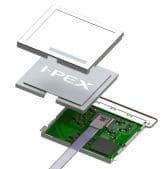 Inside View
The LIGHTPASS™-EOB 100G is an ultra-thin active optical module with a height of 2.3 mm, integrated with silicon photonics IC for the electrical-optical conversion of internal high-speed signals in data center equipment. The LIGHTPASS™-EOB 100G achieves high-speed transmission of 100 Gbps (25 Gbps x 4 ch) up to 300 meters over a multimode fiber cable.
For sample supply, an evaluation board is also available along with the active optical module.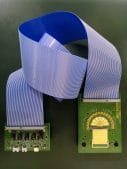 Evaluation Board
I-PEX has added the LIGHTPASS™-EOB 100G to its product lineup, along with the LIGHTPASS™-EOM 100G, which is currently supplying samples to the optical interconnection market to meet the increasing data traffic. (LIGHTPASS™ SERIES article)
Contact us for more information.
---
About AIO Core Co., Ltd. and "Optical I/O Core"
AIO Core Co., Ltd. is the first Incorporation-type divided company under an approval of the Ministry of Economy, Trade and Industry (METI). AIO Core has inherited the intellectual property rights along with some parts of technology from Photonics Electronics Technology Research Association (PETRA) and was newly divided from the organization. This development was accomplished by PETRA under the trust from New Energy and Industrial Technology Development Organization (NEDO). The Optical I/O Core mass-produced by AIO Core has a feature of 5mm square with an optical transceiver chip manufactured with "Silicon Photonics technology" which is to form optical elements on silicon board. It has a transfer rate of 25 Gbps/ch and is able to have two-way transmission with a transfer rate of total of 100 Gbps at In/Out 4ch.