Report on SAE G-46 Standardization Progress Meeting at IEEE EMC+SIPI 2018 (signal and power integrity) Symposium and Expo, July 30 to Aug. 3, Long Beach Ca, USA  
Introduction 
One attraction of these IEEE EMC Symposia to me is always Workshops, Tutorials and Standards 
On Tuesday, July 31st, I was able to attend the SAE G-46 EMC Subcommittee meeting from 12 – 5 pm. A lunch was provided with the help of 7 sponsors (see Agenda listing below)  
This SAE G-46 EMC Subcommittee (public meeting), at IEEC EMC 2018 Long Beach Ca, was extremely interesting. That is particularly true for someone coming in from Europe.  
A great opportunity was offered here to get quickly updated and receive a comprehensive North American overview of a wide range of EMC standards. 
Below is the meeting agenda and some highlights of each topic 
Agenda: 
Meeting of the SAE G-46 EMC Subcommittee, Tue, July 31, (12:00 to 17:00)  
Chair: Bob Davis, Vice Chair: Tom Fagan, Secretary: Karen Dyberg  
SAE: 
Mission: "To advance mobility knowledge and solutions for the benefit of humanity." 
Vision: "SAE is the leader in connecting and educating mobility professionals to enable safe, clean, and accessible mobility solutions." 
"SAE International is a global association of more than 128,000 engineers and related technical experts in the aerospace, automotive and commercial-vehicle industries. Core competencies are life-long learning and voluntary consensus standards development." 
The G-46 Committee deals with the system-oriented discipline that ensures electromagnetic compatibility in electronics design. The Committee develops technical criteria and procedures to guide the design engineer. Its work also includes spectrum management and conservation, secure communications, and electromagnetic emission, susceptibility, control and characterization. The committee holds one regular meeting a year. 
SAE G-46 EMC Subcommittee has a long-standing tradition under Systems Management Council, dealing with EMI/EMC. 
 Following now is an attempt to briefly recapture central highlights of the meeting. 
Keynote: EMC for Space Systems, Dr. Robert Scully (NASA, Johnson Space Center, E3 Lead) (30min)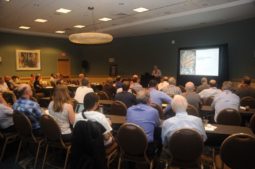 Figure 1 – Keynote SAE G46 subcommittee meeting, courtesy © 2018 by Jerry Ramie (with permission. 
Very fascinating talk (over 100MB, +fantastic videos; docs could not be received by email) explaining space physics and EMC challenges. Among others, these are very demanding and harsh ESD requirements. EMC is a critically important key factor for successful missions. On the ground, before and at start, the rocket must be in a lightning free environment. When the platform is in space, everything has to work according to plan, specs and intense, prior successfully done "ground tests". It became very clear what enormous importance early planning in the program has. Every little EMC relevant detail may count. EMC is not a stand-alone subject, but rather an interdisciplinary art. At NASA there is nowadays a huge amount of EMC know-how and experience available. Going again to the moon, using it as a possible launch pad to MARS, is certainly challenging and exciting.  
Presentation 1:  
Autonomous Vehicle EMC, TC12, IEEE 5G (Zhiping Yang, Google, 20min) 
There are real challenges in Wireless System Compatibility: 
Multiple sensors coexistence, massive MIMO antenna and TX integrations, compatibility and de-sensing issues, Communication Systems vs. mm-Wave Radar 
Over The Air Testing (OTA) will force changes on classical "EMC Chambers" test facilities.  
Passive Intermodulation needs to be handled. 
Combined Certification Standards are needed for EMC and OTA 
Committee & Standards Activity Reports: 
MIL-STD-461/464 (prepared by Joseph DeBoy, Wright Patterson AFB,15min, presented by Joseph O'Connor)

 
MIL-STD 464 Rev D: 
Electromagnetic Environmental Effects Requirements for Systems 
– Current Version is C, published on 1 Dec, 2010; Draft Rev D Launch meeting was Dec 15, 2016 
Draft, Final Rev D is completed and if MIL-HDBK-235 update (external electromagnetic environment tables feed in) is released, then MIL-STD-464D is released to public!  Updates/Changes are:  
5.1 Margins (refined language, 6dB/16.5dB). 
5.7.1 Portable Electronic Devices and Carry-On Equipment Requirements (airworthiness certification added) 
5.14.2 Platform Radiated Emissions (Minor updates to the EME Tables) 
MIL-STD 461 Rev G (11 Dec. 2015 published, Rev started Dec. 2012): 
Major Modifications to the standard 
– Deleted Power Transients Test (CS106) 
– Added Equipment Lightning Susceptibility Test (CS117) 
– Added Personnel Borne Electrostatic 
Discharge Test (CS118) 
Informative modifications
– Minor changes to the standard with significant impacts 
Threshold of susceptibilities procedures
4.3.11Calibration of measurement equipment (e.g. ISO/IEC 17025 or ISO 10012 or under an approved calibration program traceable to the National Institute for Standards and Technology)

 
IEC (Don Heirman, Don HEIRMAN Consultants, 20min) 

 
Glimpse of key IEC EMC standards activity REVIEWED BY IEC Advisory Committee on EMC (ACEC) 
Status of Work 
CISPR/A (measurement Methods/ Instrumentation) 
 Consulted: NCs on work of emissions up to 40 GHz. 
CISPR/B (Industry, Scientific, Medical) 
 Amendment of CISPR 11 to cover semiconductor power converters and use of Amplitude Probability Distribution (APD) up to 18GHz. Next stage: Committee Draft for vote (CDV) circulated. 
 Work on high power WPT failed. Work to start again at Committee Draft (CD) stage. 
 Consulting: with National Committees (NCs) on Wireless Power Transfer (WPT) at a distance.  
CISPR/D 
New edition of CISPR 12 being developed to cover plug-in hybrid electric vehicles, plus improvements to measurement methods. CDV approved. 
New publication: CISPR 36. CDV approved. 
CISPR/F 
 Amendment to CISPR 14-1 to cover: Induction Power Transfer requirements, Statistical evaluation (80/80 rule), Revision of clicks analysis. Next stage CDV. 
 Amendment to CISPR 14-2: to cover wired and wireless ports, Statistical evaluation (80/80 rule). Next stage CDV. 
 New edition of CISPR 15 being developed. Final Draft International Standard (FDIS) circulated. 
CISPR SC-H  
Limits for the protection of radio services 
-Revision of generic emission standard (IEC 61000-6-3) for residential, commercial and light industrial environments 
– Revision of generic emission standard (IEC 61000-6-4) for industrial environments 
– Revision of CISPR TR 16-4-4 containing a model to calculate emission limits 
– New Work Items: All Generic Emission Standards e.g. introduction of <30MHz Re, RE 6 G to 40 GHz, 9 kHz to 150 kHz 
CISPR SC I  
Electromagnetic compatibility of information technology equipment, multimedia equipment and receivers 
CISPR 32 (Emissions), possible changes (CISPR/I/525/RR)  
CISPR 35 (Immunity)  
SC 77B  
High Frequency Phenomena 
Maintenance of IEC 61000-4-3 Ed. 3.2 (RF Fields), IEC 61000-4-6 Ed. 4.0 (like BCI), IEC 61000-4-31 Ed. 1.0 (AC ports CI) , IEC 61000-4-39 Ed. 1.0 (RI –proximity), IEC 61000-4-2 Ed. 2.0 (EDS), IEC 61000-4-4 Ed. 3.0 ( Burst) , IEC 61000-4-5 Ed. 3.0 (Surge), IEC 61000-4-9 Ed. 1.1( RI pulse), IEC 61000-4-10 Ed. 1.1 (RI damped ), IEC 61000-4-12 Ed. 3.0 ( CI Ring wave), IEC 61000-4-18 Ed. 1.1(CI damped), IEC 61000-4-20 Ed. 2.0 ( RE/RI TEM), IEC 61000-4-21 Ed. 2.0 (Reverb. Chamber) 
SC 77C  
HEMP, IEMI, GIC 
–approved by NCs: 
MT 61000-4-36 Ed 2.0 (77C/254/RR): "IEMI immunity test methods for equipment and systems  
MT 61000-4-25 Ed 2.0 (77C/258/RR): "HEMP immunity test methods for equipment and systems 
2017-2018 EMC Standardization Activities in China 
Very detailed (standards cross reference tables) and advanced (Hotspot: Electric Vehicle WPT System)  
ANSI/IEEE C63 (Dan Hoolihan, Hoolihan EMC Consulting, 25min)

 
C63-Subcommittees 
SC1 – EMC Techniques and Development – Zhong Chen 
SC2 – E3 Terminology Definitions/Best Practices – Marcus Shellman 
SC3 – International Standardization – Donald Heirman 
SC4 – Wireless and ISM Equipment Measurements – Bob DeLisi 
SC5 – Immunity Testing and Measurements – Ed Hare 
SC6 – Laboratory Accreditation – Randy Long 
SC7 – Wireless Coexistence – Vladimir Bazhanov 
SC8 – Medical Device EMC Test Methods – Stephen Berger 
C63 Standards – Standard published recently  
– C63.15 – American National Standard Recommended 
Practice for the Immunity Measurement of Electrical and Electronic Equipment – March – 2018 
-C63.4A – Amendment 1 – Test Site Validation – American National Standard Methods of Measurement of Radio-Noise Emissions from Low-Voltage Electrical and Electronic in the Range of 9 kHz to 40 GHz , October – 2017 
– C63.27 – American National Standard for Evaluation of Wireless Coexistence, May – 2017 
C63.5 – American National Standard for Electromagnetic Compatibility – Radiated Emission Measurements in Electromagnetic Interference (EMI) Control – Calibration and Qualification of Antennas -(9 kHz to 40 GHz) – May – 2017 (mandatory 1 August 2018 for FCC Compliance Testing!) 
C63.2 – American National Standard for Specifications of Electromagnetic Interference and Field Strength Measuring Instrumentation in the Frequency Range 9 kHz to 40 GHz – February – 2017 
C63 Standards – NEW Standards under Development 
– C63.25.1 – American National Standard for Validation Methods for Radiated Emission Test Sites – 1 -18 GHz 
– C63.28 – American National Standard Guide for Best Practices for Electromagnetic Compatibility 
– C63.29 – American National Standard for Methods of Measurement of Radio-Noise Emissions from Lighting Products 
C63.30 – American National Standard for Compliance 
Testing of Wireless Power Transfer Products 
– C63.31 – American National Standard for Compliance Testing of Industrial, Scientific, and Medical (ISM) Equipment 
Will replace FCC's test document, MP-5
AIAA S121 EMC Standards for Space Systems (Jim Lukash, Lockheed Martin, 5min)

 
No documentation received 
SAE AE-4 Automotive/ Aerospace EMC Com. (Jim Lukash, Lockheed Martin for Dave Brumbaugh, 5min)

 
Recently Published: 
–ARP60493 -Guide to Civil Aircraft Electromagnetic Compatibility (EMC) -Published Oct 25, 2017 
Current open Works in Progress: 
–ARP958E-Electromagnetic Interference Measurement Antennas; Standard Calibration Method –in work to update method (sponsor: Doug Kramer) 
–AIR1209A -Construction and Calibration of Parallel Plate Transmission Line for Electromagnetic Interference Susceptibility Testing (sponsors: Ken Javor, Dave Brumbaugh 
IEEE SDECom ( Standards Development & Education Committee, Ed Hare VP Standards, 15min)

 
STANDARDS 
ISM measurements (Std. 139): Current until 2022. 
TV emission measurements (HDTV) (Std. 187): Published in early 2018.Current until 2028. 
Large device shielding Effectiveness (Std. 299): Current until 2022. 
Small device (0.1-2 m) Shielding Effectiveness (P299.1): Current until 2023 
Characterization of PC boards and interconnects to 50 GHz (P370): New standard under development. Xioning Ye is Chair of WG, meeting this week. 
Land mobile emissions (Std. 377): Current until 2018. Revisions are under consideration. 
EM site survey (Std. 473): Chad Kiger leading WG to revise. May be companion to C63.24 
Field disturbance sensors (Std. 475): MHz Efforts underway to form WG to revise, but no success so far. 
RF absorber evaluation (Std. 1128): Current until 2022. Meeting was on Monday at Symposium. The author is a member since the start of the first edition (30M to 5G, 1998) 
VDT emissions (Std. 1140): Current until 2018. TC7 (LF) is evaluating to determine what information can be used for extreme near-field testing. 
Gasket characterization (Std. 1302): Current until 2018. WG is meeting at the Symposium. 
Probe calibration (Std. 1309): Current until 2023. 
H-power filter performance (P1560): Current until 2022. 
Computational EM (P1597.1): Current until 2018. WG is meeting at the symposium. 
Computational EM practices (P1597.2): Current until 2020. WG expected to submit revised PAR at some point. 
Intentional EMI to computers (Std. 1642): Current until 2025. 
Line replaceable module testing for product compliance (P1688): Current until 2026. 
New projects: 
Power line noise complaint resolution (P1897): WG is meeting every 3 weeks by webinar. 85% drafted. 
EM risk management (P1848): New project. Project is in final stages of comment resolution. WG is meeting at symposium. 
Immunity site survey (P2667): New project. Work in progress. Statistical process control for EM Labs (P2665) New project. Work is in progress. 
Shielding for portable devices (P2710): New project. Alistair Duffy is WG Chair. WG is meeting at Symposium. 
Shielding effectiveness planar materials (P2715):New project. Alpesh Bhobeis chair, Meeting at symposium. PC-board level shielding (P2716): New project. Davy Pissoort, chair. WG is meeting at symposium. 
Low-level passive intermodulation (P2717): New project. Work is ongoing. 
Near-field considerations of emissions from unintentional stochastic radiators (P2718): New project. WG is meeting at symposium 
Presentation 2:  
NOAA RF Spectrum Overview for Remote Sensing (David Kunkee, The Aerospace Corporation, 30min) 
Outline: 
NOAA Mission Uses of Spectrum
Background
–NOAA/NESDIS Spectrum Use (300 MHz to 300 GHz) 
–Remote Sensing Spectrum  
Passive Microwave Remote Sensing
–Spectrum Utilization 
–RFI in Passive Remote Sensing 
–GNSS-RO Measurements 
–Characteristics of GNSS-RO receivers  
–GPS adjacent band compatibility assessment  
–Adjacent band Interference Tolerance Mask (ITM) 
–International Mobile Telecommunication (IMT) base station characteristics 
NOAA Mission Uses of Spectrum 
Satellite (telemetry, commanding, remote sensing, data relay) 
Maritime (communications, navigation, radar, telemetry, safety)
Aircraft (communications, navigation, radar, telemetry)
Unmanned and autonomous Vehicles (air & marine)
Emergency and Operational Communications
Law Enforcement
Weather Radars
Data relay
Buoys
Search & Rescue
RFID Tracking
Fisheries
Scientific Research
Summary  
Reliable access to spectrum is a critical component for achieving NOAA's missions in support of the public
Passive bands in the radio frequency spectrum are essential tofulfilling NOAA's weather mission
RF Spectrum is a critical resource to many industries and sharing this resource is a technological challenge as well as advancing scientific knowledge
NOAA along with the WMO, CGMS and others, is working to ensure adequate protection from disrupting incursions
Presentation 3:  
NASA Space Agency E3 Update (Dr. Robert Scully, NASA, 30min) 
This very interesting talk (document again too big for emails) explained, among others the challenge to manage simultaneously up to 11 programs in time. One recurrent phenomenon seems to be planning and executing big system EMC testing in a way that simply was never done before. Therefore, due the huge size of a platform, never fitting into any Absorber Chamber, a gigantic environmental test chamber was successfully converted into a reverberation chamber for EMC. 
Summary 
Having attended this SAE G-46 meeting was very educational to me and helped better understanding important, current standardization activities in the US and internationally on IEC/CISPR level.