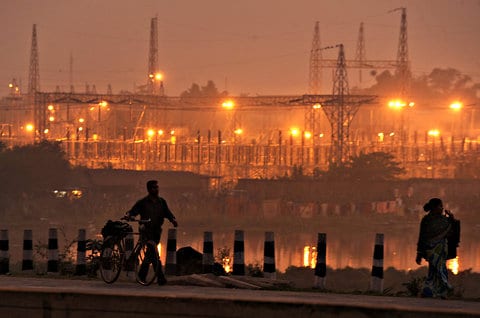 India was affected by a second power failure around 1 p.m. Tuesday, July 31, as three regional power grids collapsed, affecting 600 million people.
A Powergrid Corporation spokesman told AFP the north, northeastern and eastern grids are down, but in the process of being fixed. Power sharing was reportedly to blame for the collapse. The northern grid drew on the eastern grid which caused the northeastern grid to collapse.
Federal Power Minister Sushilkumar Shinde told reporters the outage was caused by states drawing power beyond their permissible limits.
"Half the country is without power. It's a situation totally without precedent," Vivek Pandit, an energy expert at the Federation of Indian Chambers of Commerce and Industry, said.
Power is not expected to be fully restored until later Tuesday.
On Monday, July 30, the northern grid collapsed for six hours around 2 a.m. Twenty out of 29 states were affected on Tuesday, according to an AFP calculation.
Business lobby groups in India said Monday's outage showed that the government has not addressed India's ongoing electricity issues.
"The increasing gap between electricity supply and demand has long been a matter of concern," Chandrajit Banerjee, director general of the Confederation of Indian Industry, said.
To learn more visit Discovery News.
Smart Grids and Blackouts
Eric Niiler reports on news.discovery.com that a smart grid could possibly prevent blackout situations like the one in India.
"Are we doomed to experience blackouts every time a big storm comes along or can technology find a way keep the lights from going out?" he asks.
"Experts say new technology may help restore power more quickly, but that we are stuck with our line-and-pole distribution system for decades to come. In other words, we, in the United States, at least, will still face power outages and so-called blackouts," he concludes.
However, he suggests solution by making power locally-produced. An idea is to combine small-scale power generation with bigger batteries inside the home to wean a house off the electric grid.
"The so-called 'smart grid' has been touted as a way for utilities to take advantage of wireless technology and more advanced software systems to allow them to get a better handle on outages and to reroute power around problem areas," he said.
To learn more visit Discovery News.
Update 8/1

The New York Times reports power was restored to India Tuesday night. However, the paper says Indian delegates are divided on who is to blame for the massive outage.
"I don't think one can have a blame game between the state and the center," said minister Veerappa Moily.
Ajit Sharan, power secretary for Haryana, said central government is supposed to warn states if they are drawing excessive power from the system, and that did not happen on Tuesday or Monday, according to the Times.
"This hype that states are overdrawing is the reason for the collapse is not right," Sharan said. It's too early to say what exactly happened, he said.
To learn more visit the New York Times.
Update 8/2
According to The Institute of Electrical and Electronics Engineers, lack of rain may have been the cause for the power outage.
IEEE said the fact that the first outage happened in the middle of the night, when one would expect power levels to be lower, was unexpected. However, Sivaji Chakravorti, an electrical engineering professor at Jadavpur University in Kolkata, said energy policy in India dictates customers can draw a limited amount of power before 10 p.m., and an unlimited amount after.
"At midnight, when the demand should have been lower, it is higher,"  Chakravorti said.
IEEE concludes  that the outages were caused by a "basic mismatch of supply and demand," but also acknowledges the fact that India relies on seasonal rainfall for power.
"This year's monsoon season, especially in Northern India, hasn't provided the water that the region's farmers need for their crops. Less rain means that farmers need to pump more water from deep boreholes, using highly subsidized electricity. … Less monsoon rain also causes water levels to drop and hydropower production to slow. The northern grid is particularly reliant on hydropower, which accounts for 28 percent of the region's installed capacity [PDF]. Nationally, hydropower accounts for less than 20 percent," the article said.