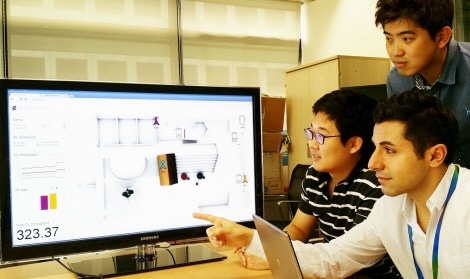 South Korean telecommunications operator SK Telecom, partnered with Ericsson, has successfully demonstrated new "Elastic Cell" technology capable of improving data transfer speed up to 50 percent. This test could potentially speed up the development and release of 5G technology.
"Elastic Cell," also known as "Flexible Cell," technology allows two-way communication between multiple nearby cells and one cell site via a handset. The technology picks nearby cells with the aim of optimizing network quality, dramatically improving performance at the cell boundary. Additionally, it disables nearby cells in order to reduce interference.
According to SK Telecom, this Elastic Cell setup will switch current technology from a cell-centric environment, in which one handset only communicates with one cell, to a user-centric environment, in which multiple cells can factor into every transmission.
On July 21, the companies tested their Elastic Cell technology, and found that it yielded a 50 percent improvement in data transfer speed, as compared to current LTE technology. The companies are confident that this could represent a significant breakthrough in the development of 5G technology.
"SK Telecom, together with Ericsson, succeeded in the world's first demonstration of Elastic Cell, which is expected to become a prerequisite for the next generation network," Park Jin-hyo, Senior vice president and head of the Network Technology R&D Center at SK Telecom, said in a recent press release. "We will continue to take the lead in developing a variety of technologies necessary to evolve cells."
"With this new technology SK Telecom takes an important step toward the next generation of mobile networks," Thomas Norén, vice president and head of Product Area Radio, Ericsson, said. "Consumers will benefit from the improved seamless experience wherever they are in the cell and while on the move."
"SK Telecom has been a leader in technology development of 4G and beyond and we are proud to support the developments," Norén added.
South Korea has shown a strong interest in developing 5G technology, marked in June by an official partnership with the European Commission, in which both parties agreed to combine resources towards 5G research and development.
"5G will become the new lifeblood of the digital economy and digital society once it is established. Both Europe and Korea recognize this," Neelie Kroes, EC's digital chief, said in a Europa press release. "This is the first time ever that public authorities have joined together in this way, with the support of private industry, to push forward the process of standardization. Today's declaration signals our commitment to being global digital leaders."
The specifics of the agreement included an aim to reach "a global consensus by the end of 2015, on the broad definition, the key functionalities, and target time table for 5G," as well as "to cooperate to facilitate the identification of globally harmonised radio frequency band to meet the additional spectrum requirements for 5G, and to reinforce cooperation in the context of ITU and WRC."
Following this landmark partnership between South Korea and the EC, SK Telecom and Ericsson signed an agreement in early July that made them official partners in the race towards 5G standards. The companies hope to publically stage a 5G demonstration at the 2018 Pyeongchang Winter Olympics.
"Because coordination between networks will still be very important in 5G technologies, SK Telecom expects that Elastic Cell will become a key enabler for 5G," a SK Telecom representative told Total Telecom in an emailed statement.
The company hopes to commercially release their Elastic Cell technology by 2016.
– Melanie Abeygunawardana