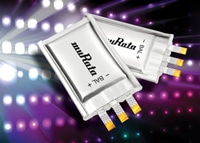 Murata Americas has introduced its new DMF series of high peak current electrical double-layer capacitor (EDLC) for use as auxiliary power sources and peak load assistance.
"With the new DMF series, Murata is again able to provide miniaturized super capacitors with outstanding features, performance and value," Mark Waugh, business development manager of Murata Americas, said.
According to the company, the new series of EDLCs features "low resistance and stable temperature characteristics, enabling it to be charged and discharged frequently over the operating range of -30°C to 70°C." The DMF series will be offered with 330mF and 470mF capacitance values.
For more information, visit Murata Americas.
Image: Murata Americas