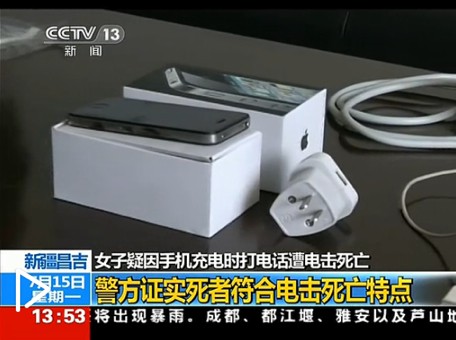 UPDATE July 25, 2013
Apple has posted an advisory note on its Chinese website, urging users to use authorized chargers only. The post follows two incidents in which users were electrocuted after touching their charging iPhones.
UPDATE July 19, 2013
The South China Morning Post has reported that Ma Ailun, the 23-year-old Chinese woman who was killed via electric shock while answering a call on her iPhone 5 last week, may have been using an unauthorized third-party charger.
According to Xiang Ligang, a telecommunications expert interviewed by Chinese television station CCTV, if the charger used by Ma was a fake, it may not have been held to as high standards as official Apple chargers.
"Knockoff chargers sometimes cut corners," Xiang Ligang, a telecommunications expert interviewed by Chinese television station CCTV, said. "The quality of the capacitor and circuit protector may not be good, and this may lead to the capacitor breaking down and sending 220 volts of electricity directly into the cell phone battery."
Another possibility was that the charger had been intended for use in Hong Kong, Taiwan or Japan, instead of in mainland China and was subsequently overloaded. Xiang said. Japan has a standard electrical voltage of 100 volts, while Taiwan has a standard electrical voltage of 110 volts. Hong Kong and mainland China share a standard of electrical voltage of 220 volts; however, some Hong Kong hotels feature 120 voltage outlets, the South Morning China Post said.
Local authorities continue to investigate and have not released an official statement at this time.
Separate reports have also surfaced this week of a 30-year-old man who has been comatose for more than 10 days after plugging an iPhone 4 to a supposedly "counterfeit" charger.
Wu Jiantong reportedly yelled "I'm getting shocked" while he was connecting his iPhone 4 to a charger before becoming unresponsive.  His sister related the incident, adding that she rescued him by pulling the charger out of the socket.
"I then felt needle-like pains on my fingertips. The current was running from my finger, through to my arm and body, and to the foot," she said.
In a later interview, Wu's sister said the charger was a third-party product, not a genuine Apple charger.
Wu was reportedly not breathing when the emergency medical team arrived and required CPR. He remains in a coma in the ICU of a Beijing hospital as a result of the severe deprivation of oxygen to his brain.
July 15, 2013
Apple Inc. has launched an investigation following an incident in which a Chinese woman was reportedly killed by an electric shock after answering a call on her iPhone 5 while it was charging.
Last Thursday, Ma Ailun, a 23-year-old woman from China's northwestern Xinjiang region, was electrocuted when she answered a call on the device while it was plugged in, Chinese official press agency Xunhua News Agency reported on Sunday. While local police have reportedly confirmed that Ma died of electrocution, they have yet to release an official statement on whether her phone was involved in the incident.
The older sister of victim Ma Ailun said Saturday on Sina Weibo, a Chinese microblogging website, that "[I] hope that Apple Inc. can give us an explanation. I also hope that all of you will refrain from using your mobile devices while charging."
"We are deeply saddened to learn of this tragic incident and offer our condolences to the Ma family. We will fully investigate and cooperate with authorities in this matter," Apple said in a statement on Sunday.
Apple's iPhone User Guide includes a section on important safety and handling information, including directions for charging the device. A warning near the top of the section states, "failure to follow these safety instructions could result in fire, electric shock, or other injury or damage to iPhone or other property."
While details on the incident remain limited, Donald Johnson, a professional engineer who deals with stray voltage and electrocution investigation, told ABC News that many factors could have caused it.
"There are a lot of things that could have caused this. Many seem unlikely, but you never know—electricity can do strange things." Johnson said. He added that it could be something specifically wrong with the charger being used.
"I wouldn't be concerned about it at all," he said when asked if iPhone owners should be worried. "The investigation will be important, but usually low-voltage items, like a phone chargers, aren't a concern."
Apple recently began strengthening its presence in the Chinese smartphone market, which is primarily dominated by Android devices. Shipments to China of the iPhone 4 8GB version were up by 211 percent in this year's first quarter, research firm IDC said. The company's latest smartphone, the iPhone 5 is also reportedly selling well.