Power Transfer and Data Transmission in One
Waldenburg (Germany), 30 October 2018 – Würth Elektronik eiSos and Infineon Technologies AG have jointly brought a development system for wireless power transfer onto the market. Two aspects distinguish this development kit: On the one hand, it serves to develop applications outside the Qi standard up to a power of 200 W. Data can also be transmitted via transmitter and receiver coil, as well as receiver sending data to the transmit coil. A manual is available online and explains the innovative method of modulating the alternating field between transmitter and receiver. Options include sensors and a display board to test scenarios for data acquisition, forwarding and display. The development kit is available online with the order code 760308EMP. 
"As the manufacturer with the largest portfolio of wireless power coils, for some time now we have received repeated inquiries from customers looking for higher power applications beyond the Qi standard," explains Cem Som, Division Manager Wireless Power Transfer at Würth Elektronik eiSos. "With our development kit we address just these applications up to a power of 200 W. The circuit can be scaled from 10 W up to several kW. The currents in the resonance circuit are sinusoidal which ensures good EMC performance. The secret: By changing the switching frequency, the output voltage changes and data can be transmitted from the receiver to the transmitter." Possible fields of application include Industry 4.0, IoT or medical technology, for instance. Wherever there are harsh environments with any cable and connector openings in enclosures which should be avoided, such as in the case of wireless battery charging, it may be expedient to convey status messages. 
Functional principle 
The 760308EMP-WPT-200W development kit includes a power supply unit, a transmitter and a receiver unit. 
The transmitter side consists of a full bridge and a resonance circuit. This is formed from the series connection of the WPT coil and the resonance capacitors. As a result of the phase shift between the voltage and current in the resonance circuit, the system works in ZVS (Zero Voltage Switching) mode. This leads to a very high efficiency of the overall system. 
A synchronous rectifier is used on the receiver side with downstream filtering and screening. In addition, amplitude modulation (AM) of the alternating field between the transmitter and receiver allows any data to be sent from the receiver side to the transmitter side. 
An application example that can be simulated with sensors at the I²C interface of the receiver board: While charging, a mobile device sends data to a base station. All data and documentation necessary to realize a proprietary system of this kind are freely available for downloading. 
Available images 
The following images can be downloaded from the Internet in printable quality: http://www.htcm.de/kk/wuerth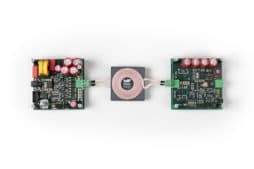 Image source: Würth Elektronik eiSos 
200-W-WPT2014—a wireless power developer kit jointly engineered by Würth Elektronik eiSos and Infineon—allows power and data transmission to be combined. 
 
About Würth Elektronik eiSos GmbH & Co. KG 
Würth Elektronik eiSos GmbH & Co. KG is a manufacturer of electronic and electromechanical components for the electronics industry. Production sites in Europe, Asia and North America supply a growing number of customers worldwide. The product program encompasses EMC components, inductors, transformers, HF components, varistors, capacitors, power modules, LEDs, wireless technology, plug connectors, power supply elements, wireless power coils, switches, connection technology and fuse holders. Würth Elektronik eiSos GmbH & Co. KG together with its specialized affiliated companies form the Würth Elektronik eiSos Group. 
About the Würth Elektronik eiSos Group  
Würth Elektronik eiSos GmbH & Co. KG (Focus: standard components), Würth Elektronik iBE GmbH (Focus: customized passive components for the automotive industry), Wurth Electronics Midcom Inc. (Focus: transformers and custom magnetics), Würth Elektronik Stelvio Kontek S.p.A. (Focus: customized plug connectors) and IQD Frequency Products Ltd (Focus: frequency-producing devices) form the Würth Elektronik eiSos Group. The former subsidiary AMBER wireless GmbH with a focus on solutions for wireless data transmission became the Wireless Connectivity and Sensors division of Würth Elektronik eiSos GmbH & Co. KG in 2018. The group of companies with 6,700 employees generated sales of approx. € 653 million in 2017. The Würth Elektronik eiSos Group is one of the biggest European manufacturers of passive components and operates in 50 countries. 
Through its technology partnership with the Audi Sport ABT Schaeffler Formula E Team and its support for the Formula E racing series, the Group demonstrates its innovative strength in eMobility
(www.we-speed-up-the-future.com). Other global growth markets, such as Energy Harvesting, Internet of Things and Wireless Communication, are addressed with innovative products.  
The Würth Elektronik eiSos Group is part of the Würth Group, the world market leader for assembly and fastening technology. 
Würth Elektronik: more than you expect! 
Further info at www.we-online.com 
More information:

 

Würth Elektronik eiSos GmbH & Co. KG
Sarah Hurst
Max-Eyth-Strasse 1
74638 Waldenburg
Germany 

Phone: +49 7942 945-5186
E-mail: [email protected] 

www.we-online.de 

 

Press contact:

 

HighTech communications GmbH
Brigitte Basilio
Brunhamstrasse 21
81249 Munich
Germany 

Phone: +49 89 500778-20
Telefax: +49 89 500778-77
E-mail: [email protected] 

www.htcm.de