Transtector Systems, an Infinite Electronics brand and an industry-leading provider of end-to-end power and signal integrity solutions, today launched a new series of data isolators optimized for medical applications, providing a highly effective layer of protection that is simple to install.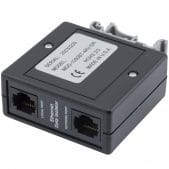 Also known as isolation transformers, these cost-effective components are fully self-contained devices that protect valuable network equipment and personnel from damaging surges and power anomalies that commonly occur across network cabling. Installation and operation are quick, easy and efficient—simply plug this device inline between two 10/100/1000 Ethernet cables and equipment on each end is effectively protected.
Each unit is fully RoHS compliant and certified to meet the EN60601-1 European Medical Device Directive, making them ideal for hospital and medical laboratory environments.
"These are mission-critical applications that require an uninterrupted flow of data," said Dan Rebeck, Product Line Manager for Transtector. "The new data isolators are a simple, effective way to build in a reliable layer of surge protection."
Additional key features include:
Plug-and-play installation saves time and money
Two RJ45 connectors provide simple, standard connections
Meets EN60601-1 European Medical Device Directive
Isolation up to 4 kV