Have Suspect Counterfeit ESD Packaging & Materials
Infiltrated the Aerospace & Defense Supply Chain?
Bob Vermillion, CPP, Fellow
Certified ESD & Product Safety Engineer – iNARTE
RMV Technology Group, LLC
NASA-Ames Research Center
Moffett Field, CA 94035
According to the 12 February 2016 edition of the EE Times, President Barak Obama indicated a day earlier that he will sign into law a customs bill passed by the U.S. Senate that includes a provision to combat counterfeit semiconductors (Figure 2)[1]. This will be called the Trade Facilitation and Trade Enforcement Act of 2015 (H.R. 644/S.1269). This bill will mandate that U.S. Customs & Border Protection share information and samples of suspected counterfeit EEE parts for inspection and testing that are identified as counterfeits. In 2011, the Semiconductor Industry Association estimated that counterfeiting costs U.S. based semiconductor companies more than $7.5 billion per year.
Over the past several years, U.S. based organizations have sacrificed the traditional "internal auditing process" with reliance upon contract manufacturers, distributors and suppliers to do the right thing. To compound the problem, organizations have accepted supplier specifications as adequate proof in qualifying a product for use. The inspection of ESD sensitive devices or EEE parts is very important, but without special safeguards, the additional handling to remove and repack a product for validation can cause both physical and ESD damage in the process. For electronic ESD sensitive components, including those not sensitive to static electricity, measures must be utilized to detect, inspect and validate the packaging as well as incoming EEE parts.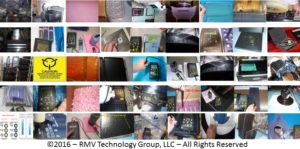 Different Types of Static Control Packaging types, Label and Indication Card in Table 1
Figure 1
Blister Pack

Antistatic Pink or Blue Poly Bags

Conductive Carbon Loaded Bags

ESD Static Shielding Bags

ESD Aluminum Moisture Barrier Bags (Type I)

ESD Grid Bags

ESD Corrugated Containers

ESD Polymer (Plastic) Boxes

ESD Paperboard

ESD Plastic Corrugated (Extruded)

Plastic Hinged Clear Antistat Coated Boxes

Plastic Hinged Conductive Carbon Loaded Boxes

Antistatic Clamshells

Antistatic Trays

Static Dissipative Trays

Inherently Conductive Polymer Trays

Carbon Loaded Trays

Carbon Coated Trays

ESD P E Films

Antistatic Films

ESD Foams

Cross-linked foams

Antistatic Pink Poly Pallet Wrap

ESD Cleanroom Paper

Antistatic 8" x `11" Paper

Antistatic Tape

Clear, Blue and Pink Antistatic Work Carriers

ESD Polystyrene Peanuts (Not Allowed)

ESD Safe Tape & Reel

ESD Rubber bands and straps

ESD Safe Antistatic Dip Tubes (IC Carriers)

Antistatic End Caps (Pink and Back)

ESD Symbol Labels

Antistatic Labels

ESD Wafer Boats

ESD Wafer Carrier

ESD Wafer Separators

ESD Torn Bag with Tubing, IC Carrier or Dip Tubes

Antistatic Bubble

Blue Dissipative Bubble

ESD JEDEC Trays

ESD Cordless Wrist strps

Humidity Indicator Cards

Sorbent (Absorbent) Pads, Antistatic
Table 1
The author was first to present on issues of suspect counterfeit ESD packaging & materials (Figure 1) in the DOD Supply Chain, NASA QLF 2010 (Quality Leadership Forum). No longer is a Supplier Technical Data Sheet enough to attest that a product is compliant to ANSI/ESD S541 (ESD Standard for Packaging and Materials). In 2012, Dr. Doug White (US Army, DAC) and I presented: "ESD Packaging for Supplier Non-conformance & The Importance of Proper Training & Qualification Testing as an Effective Countermeasure for Mitigation" at the National Institute of Packaging & Handling Logistics Engineers (NIPHLE) Annual Conference, Washington, DC. Consequently, due diligence in the initial test of a protective package constitutes a major first step toward supplier compliance.
Tape and Reel Photograph showing components in carrier tray and clear film
Figure 2
Today's US based products are now commonly substituted by offshore manufacturers without traceability in the global supply chain.  In contrast to aerospace & defense, the pharmaceutical sector is actively engaged in a sound packaging engineering approach that differentiates non-conforming or suspect counterfeit  products to be tracked, identified, inspected and then placed into quarantined (Figure 3).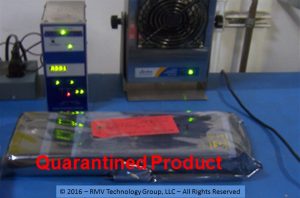 Static shielding bag housing IC Carrier Rails (Dip Tubes)
Figure 3
Scope of the Problem: Supplier non-conformance and suspect counterfeit packaging represents an electrostatic discharge (ESD) hazard to sensitive devices or components by generating high voltage discharges during transport, parts inspection and manufacturing. Several aerospace related issues involve long-term storage with antistatic foam, antistatic bubble, vacuum formed antistatic polymers and Type 1 moisture barrier bags.
The late John Kolyer, Ph.D. (Boeing, Ret.) and Ray Gompf, P.E., Ph.D. (NASA-KSC, Ret.) were advocates in the utilization of a formalized physical testing material qualification process. Today, the DoD, prime contractors and CMs rely heavily upon a visual inspection process for ESD packaging materials. Over the past decade, suspect counterfeit ESD packaging materials have entered the supply chain largely unnoticed due to the practice of accepting a Supplier Technical Data Sheet in lieu of testing.
A common practice of visually inspecting an outer package label in combination with bar code scanning has not prevented suspect counterfeit static control packaging from entering the DoD supply chain. To compound the matter, an inexpensive walnut blasting method to remove a component's lettering is used by suspect counterfeiters  with little to no evidence of tampering as illustrated in Figure 4.

Walnut Blasting of Lettering from Rejected or Outdated EEE Part
Figure 4
Another countermeasure for detection is the use of RFID in packaging for incoming inspection and inventory tracking.  "Hands on" training is a reliable method to teach Incoming Inspection personnel in the use of advanced inspection techniques. For example, ESD sensitive components are typically protected by packaging that industry identifies by "color", i.e. "Pink" or "Blue" for antistatic bubble and "Black" for carbon loaded polymer (JEDEC trays and Tape & Reel).  Color is no longer an indicator of static control packaging performance.  This identification marker is widely accepted by Aerospace & Defense.  A simple and cost effective electrical resistance test can be utilized to determine if packaging is compliant.
A counterfeiter is not motivated to package fraudulent ESD sensitive components in compliant ESD safe packaging as material costs can be 40% or more.   Whether the protective packaging is non-compliant or suspect counterfeit, the EEE device could be compromised.
Even though some Federal agencies may not use dip tubes in manufacturing, many primes, CMs and electronic distributors continue to source EEE parts housed in antistatic IC carriers that are not designed for long term storage.
IC Carrier or Dip Tubes which were Quarantined by User
Figure 5
Since 1997, our lab has evaluated static control products and packaging for major federal agencies, commercial end users, OEMs, CMs and distributors.  For the past several years, many ESD materials and packaging from the Pacific Rim have failed standardized ANSI/ESD testing. For example, the reader can see that an "ESD labeled"  reel is  insulative at 1.5 x 1012 ohms in Figure 6; the limit is <1.0 x 1011 ohms. In addition, the reel charged to -15,080 volts that could be a cause for Field Induced Model discharge (FIM).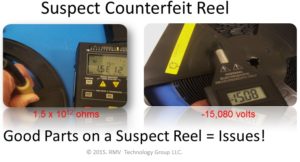 2-Point Resistance Test of Reel on Left and Non-Contact Voltage Reading on Right
Figure 6
As stated earlier, the RMV & U.S. Army Defense Ammunition Center (DAC) white paper for the NIPHLE Conference, Washington, D.C. produced the following:
Fast Packs (Failed)
Antistatic Bubble (Passed)
Antistat Pink Poly Film (Failed)
Type I Aluminum ESD Moisture Barrier Bag (Failed)
Type III Metallized ESD Shielding Bag (Failed)
In short, initial qualification of a package or material must be followed by "periodic verification though physical testing." Therefore, mission critical EEE parts and components that require ESD packaging should be re-validated on a periodic basis for EEE parts and components.
Bob Vermillion, CPP/Fellow, is a Certified ESD & Product Safety Engineer-iNARTE with subject matter expertise in the mitigation of Triboelectrification for a Mars surface and in troubleshooting robotics, systems and materials for the aerospace & defense, hand held devices, wearables, medical device, pharmaceutical, automotive and semiconductor sectors. Bob was recently elected to the Advisory Board Council of the Independent Distributors of Electronics Association, the governing body for IDEA-STD-1010B-2011.  A long standing member of the ESDA Standards Committee, Co-author of several ANSI level ESD documents, Co-Chair of the ESDA WG 19 Committee for Aerospace & Defense and Co-Chair of the SAE G-19 Packaging Sub-Committee for EEE Counterfeit Parts, Vermillion formerly served on the BoD with iNARTE.  Speaking engagements include Suspect Counterfeit Presentations/Seminars for NASA, DOE, Aerospace & Defense, California Polytechnic University, Loyola University and NASA Ames Conference on 3 May 2016 followed by his NIPHLE Training Conference presentations on 4 and 5 May 2016 . Vermillion is CEO and Chief Technology Officer of RMV Technology Group, LLC, a NASA Industry Partner and 3rd Party ESD Materials Testing, Training and Consulting Company. Bob can be reached at 650-964-4792 or [email protected].
InCompliance
By Bob Vermillion, CPP/Fellow
September 2014
The Silent Killer: Suspect/Counterfeit Items and Packaging
Over the past several years, U.S. based organizations have curtailed traditional internal verification efforts due to reliance on contract manufacturers, distributors and suppliers to do the right thing. The inspection of ESD sensitive parts is very important, but without special safeguards, the additional handling to remove and repack a product for validation can cause both […]
By Bob Vermillion, CPP/Fellow
The Dip Tube
Interference Technology
By Bob Vermillion, CPP/Fellow
June 1, 2010
This article illustrates that removal of ESD sensitive components from non-conforming or suspect dip tubes will generate ESD events.
Source (Page 72) https://interferencetechnology.com/the-dip-tube/  
JEDEC and Tape & Reel Issues      
Interference Technology UK
by Bob Vermillion, CPP/Fellow
November 2010  
Handling today's architectures in combination with ultra sensitive electronic components packaged in suspect counterfeit or non-conforming materials leads to issues during the inspection process and in use. Issues in the handling of ultra sensitive (Class 0) ESD devices are discussed in this groundbreaking article.
Source URL:  https://interferencetechnology.com/jedec-and-tape-reel-issues/
Article Abbreviations or Acronyms:
ANSI – American National Standards Institute
CM – Contract Manufacturer
Dip Tube – IC Carrier
D0D – Department of Defense
ESD – Electrostatic Discharge
EEE parts – Electrical, Electronic (ESD Sensitive Devices) and Electromechanical
EE – Electrical Engineer
Fast Packs – Outer Sleeve weather resistant Fiberboard Stiched Container with Convoluted Foam Pad
IC – Integrated Circuit
JEDEC – JEDEC Solid State Technology Association, formerly known as the Joint Electron Device Engineering Council
JEDEC Tray – Waffle Tray or IC Matrix Carrier to transport, store and stage ESD Sensitive Devices
[All JEDEC matrix trays are 12.7 x 5.35 inches (322.6 x 136mm)]
KSC – Kennedy Space Center (NASA)
NASA QLF – NASA Quality Leadership Forum
NIPHLE – National Institute of Packaging & Handling Logistics Engineers
OEM – Original Equipment Manufacturer
Type 1 – Aluminum ESD Safe Moisture Barrier Bag (MBB), see Mil-PRF-81705E
Tape and Reel – A format for packaging, transporting, storing, and placing components and devices. The desired components and devices, such as capacitors or chips, are securely adhered to a tape which is wound upon a reel, providing a simple and protective manner of packaging, transporting, and storing. The reels can then be utilized with special equipment which provides for automatic insertion or placement of the parts so held. Its abbreviation is tape & reel packaging[2].
[1] http://www.nytimes.com/2016/02/12/business/international/sweeping-trade-enforcement-law-gets-final-senate-approval.html?_r=0
[2] http://www.dictionaryofengineering.com/definition/tape-and-reel-packaging.html