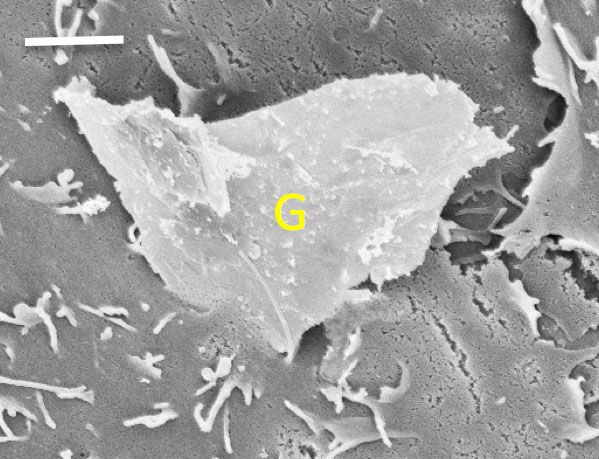 New research from Brown University says graphene, an allotrope of carbon with commercial potential in a wide range of applications, may be toxic to humans.
Graphene, first isolated by physicists from the University of Manchester, UK and the Institute for Microelectronics Technology, Russia in 2004, is the lightest, strongest and most conductive material known to man, measuring just one atom thick. With its high mechanical strength and conductive properties, many scientists believe graphene has great commercialization potential in applications ranging from telecommunications to solar cells, batteries and consumer electronics
However, new research from Brown University says the 'miracle material' may be toxic to humans.
A collaboration of biologists, engineers and material scientists from Brown University has found the sharp, jagged edges of a sheet of graphene can easily pierce and enter cell membranes. Once inside, the graphene can disrupt normal cellular function. These latest findings may help researchers better understand the toxic potential of other nanomaterials and enable engineers to design safer materials at the nanoscale, Agnes Kane, chairman of the Department of Pathology and Laboratory Medicine at Brown University and one of the study's authors, said. The study is published in the online journal Proceedings of the National Academy of Sciences
"These materials can be inhaled unintentionally, or they may be intentionally injected or implanted as components of new biomedical technologies," Robert Hurt, professor of engineering and one of the study's authors, said. "So, we want to understand how they interact with cells once inside the body."
"If there's some feature that is responsible for its toxicity, then maybe the engineers can engineer it out," Kane said.
Earlier preliminary research completed by Kane's biology group had demonstrated that graphene sheets can enter cells, but was unable to show how they got there. Molecular-level computer simulations run by Huajian Gao, professor of engineering, were also unsuccessful— however, they assumed a perfectly square piece of graphene. In reality, when sheets of graphene are peeled away from larger chunks of graphite, they come off in asymmetrical flakes with jagged protrusions known as asperities. When Gao reran his simulations with asperities included, the graphene sheets were able to pierce the cell membrane easily.
The computer model was verified experimentally by Annette von dem Bussche, assistant professor of pathology and laboratory medicine, using human lung, skin and immune cells placed in Petri dishes along with graphene microsheets. Electron microscope images confirmed that graphene successfully entered the tissue cells, starting with its rough edges and corners. The images showed that even larger graphene sheets of up to 10 micrometers could completely enter a cell.
The research team plans to examine in more detail the effects of graphene once inside a cell. However, says Kane, this study is an important first step in understanding graphene toxicity.