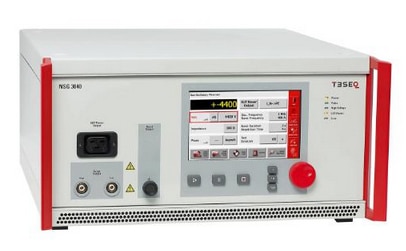 Teseq, a manufacturer of EMC emission and immunity testing instrumentation, has released the NSG 3040-SOW, a new stand-alone generator for slow damped oscillatory wave testing in single phase equipment up to 270 V and 16 A.
Ideal for use by power stations, substations, electric meter manufacturers, relays and switch manufacturers as well as EMC testing labs, the NSG 3040-SOW enables users to perform over-testing at test levels up to 4.4 kV and is in compliance with current testing standards IEC/EN 61000-4-18 and ANSI C37.90.1.
NSG 3040-SOW offers a test voltage range from 0.2 kV to 4.4 kV, oscillation frequency of 100 kHz and 1 MHz, selectable source impedance of 200 Ohm and 150 Ohm, and a pulse repetition rate that exceeds standards requirements. A 7-inch color touchscreen interface, integrated keyboard or thumbwheel, Windows-based control software, Ethernet port for external PC control and an integrated test assistance (TA) function to speed up the acquisition of results from standardized tests are also included.