Due to high demand, FN2415, the single-phase filter for control units from Schaffner is available again. Two new versions with adapted performance and lower leakage currents have been added.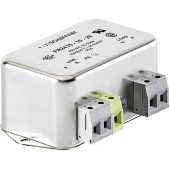 Typical applications:
Large and complex machine tools with multiple driving axes and very long motor cables can be subjected to major reliability problems, provoked by internal coupling of interferences from the drive system to the control wires. This can cause dropouts and interrupts of the control unit and consequently lead to unnecessary downtimes of the entire machine.
The FN 2415 eliminates the interference and thus increases the reliability of the entire machine. It can also be used for diverse single-phase applications, e.g. motor drives and power supplies.
Approvals:
The filters have all the required safety approvals (UL, CSA, and IEC / EN) and are compliant to REACH and RoHS directives.