Offered with 2 or 4 analog and 16 digital input channels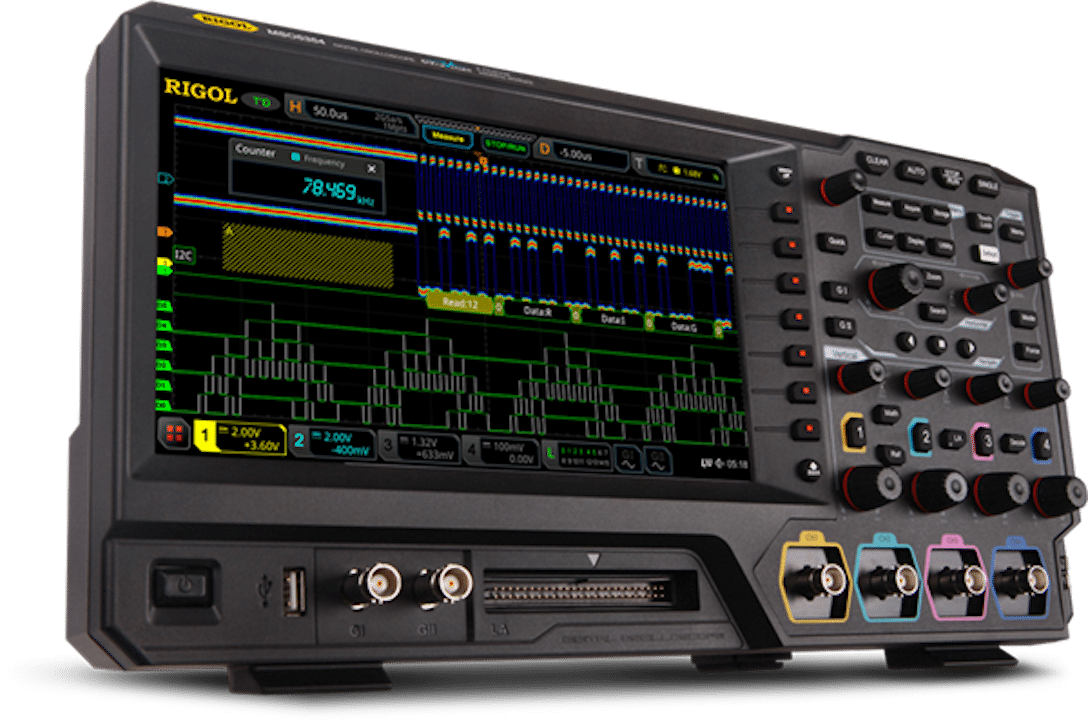 Fresh from celebrating the company's 20th anniversary on October 19th and noting, as Rigol VP Victor Chen did that "we want to become the world's most pre-eminent brand (of instruments) not just China's pre-eminent brand," Rigol used Electronica as a platform to roll out its new MSO5000 series of oscilloscopes, offering bandwidths of 70MHz to 350 MHz and a sampling rate of 8 Gsamples/sec. 
Slotting into the company's line-up right below the previously released MSO/DS7000 mixed signal digital oscilloscope, the new series is described as a more cost-effective solution for applications that require memory depths of up to 200 million points and signal ranges up to 500,000 wfms/sec. 
The MSO5000 Series combines its sampling and memory depth with a flexible User Interface enabled by Rigol's new UltraVision II architecture and its Phoenix Chipset. With 70 to 350 MHz models each with 2 or 4 analog channels, the MSO5000 Series brings flexibility and capability to the engineer's bench enabling he or she to analyze critical signals with zone triggering, 7 instruments in 1 (Oscilloscope, Logic Analyzer,  Generator, Voltmeter, Counter/Totalizer, Protocol Analyzer and Spectrum Analyzer) as well as enhanced FFTs, color grading, and histograms all supported by the high sample rate, deep memory, and full memory measurements.  
Various interfaces such as USB, LAN (LXI), HDMI and GPIB (via adaptor) as well as USB mouse support are available.  All at a starting price characterized by Mike Rizzo, General Manager, Rigol Technologies USA as a "transformational" US$909. 
Rigol offers a full range of active and passive probes, high-voltage probes and 19-inch mounting frames, software drivers for popular packages and high-level languages. Free UltraScope operating software and web remote control are also available.