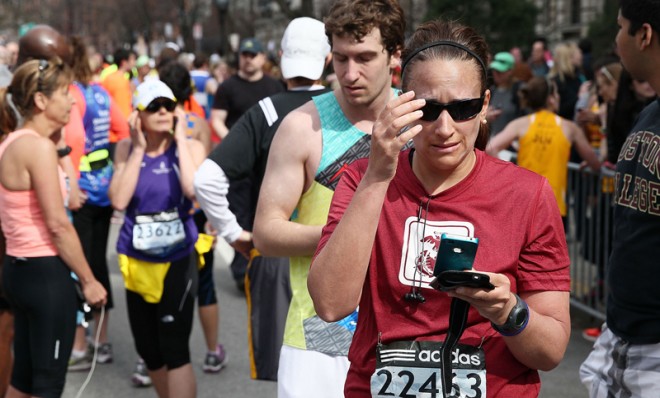 Following Monday's deadly explosions at the Boston Marathon, thousands of runners and spectators along the 26.2 mile course were left without cellphone service, preventing many near the scene of the explosion and callers from outside Boston from contacting family or friends attending the event.
According to a statement released by the Associated Press on Monday night that was quickly picked up by several local and national news stations, law enforcement was reportedly intentionally blocking cellphone service in the Boston area "to prevent any potential remote detonations of explosives." The statement was later determined to be false when service providers Verizon Wireless, AT&T and Sprint revealed that the sudden increase in call volume following the explosions effectively overwhelmed service capabilities.
Though nationwide coverage has improved drastically since the widespread service problems in New York following the attacks on the World Trade Center in 2001, the increase in the commercial use of smartphones and other wireless devices has continued to place a strain on wireless networks, especially during recent disaster situations like Hurricane Sandy or the 2008 Chino Hills earthquake in Southern California. Because wireless towers are designed to handle a specific amount of call volume, a sudden or drastic increase in the number of calls from a certain geographic area can overload a cell tower and result in call blocking. This can affect first responder and emergency service communications—and if deemed necessary, the government does have the ability to shut down cellular networks.
Following the controversial shutdown in New York after the 2005 London subway bombings, the National Communications System, now part of the Office of Emergency Communications, established a protocol for emergency interruptions that requires carriers to temporarily shut off their base stations in certain situations. Local authorities also have access to jamming devices and do not need consent from telecommunications companies to use them. However, while these capabilities can help emergency and law enforcement personnel communicate, others often remain unable to reach friends and family.
According to Hari Balakrishnan, a computer science professor at the Massachusetts Institute of Technology, Monday's events in Boston demonstrate the need for wireless networks to be able to better handle higher call volumes in emergency situations.
"We ought to be investing in designing disaster relief networks," Balakrishnan, who leads MIT's Networks and Mobile Systems groups, told The Boston Globe. "We have to make more flexible networks." He added that researchers are actively studying communication models that could work more efficiently than current systems during emergency situations.
However, according to Bill Moore, chief executive officer of RootMetrics, a company that monitors national mobile coverage, upgrading wireless networks to handle additional call volume resulting from an emergency situation would not be practical.
"They can't build networks for the fraction of the percent of cases that something like this would happen," Moore told The Boston Globe. "If every cellular company built for a terrorist attack, they would spend so much on infrastructure that no one would be able to afford services."
Wireless network providers reportedly boosted coverage in anticipation of intense usage during the marathon, which draws 20,000 participants and more than 500,000 spectators each year, possibly preventing the networks from collapsing completely under the additional call volume that followed the explosions.
Readers: What do you think? Should wireless providers improve service capabilities to better handle additional call volume from non-emergency personnel in emergency situations even though it may raise the cost of service?