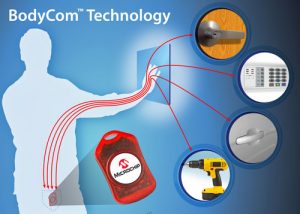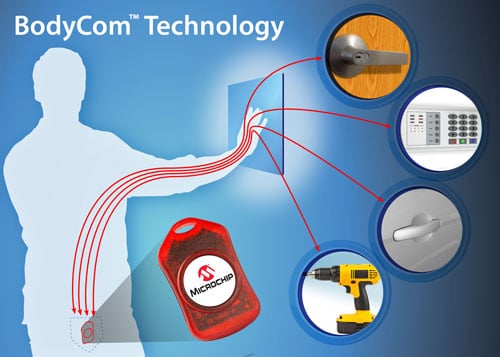 Researchers are increasingly eyeing the potential of integrating electronics with the human body as technology continues to advance and we become increasingly dependent on the wide range of benefits electronics provide us. While a number of recent advances—such as the development of electronics that melt in the body post-surgery or the creation of tiny, injectable LEDs to help neuroscientists study the brain—are internal electronic devices designed for the medical and research fields, one of the most recent developments in human body-integrated technology utilizes the body as a secure, low-power communication channel to transfer information.
Announced at the Embedded World conference held earlier this year in Germany, the BodyCom technology is reportedly the "world's first to use [the] human body as a secure, low-power communication channel," according to the technology's developer, Microchip Technology Inc.
"There are a broad range of applications where secure wireless communication is essential, and there is no more secure channel than the human body," Microchip Technology Inc. said. The technology activates by "capacitively coupling to the human body" and transfers information bidirectionally between a centralized controller and one or more wireless devices, eliminating the need for antennas and reducing the possibility of wireless interference.
According to Microchip Technology, the new technology could have potential applications in a variety of industries, including the medical, consumer and security industries.