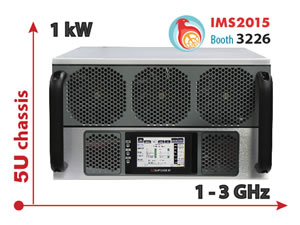 Empower RF Systems will conduct a live demonstration of its new 1 to 3 GHz High Power Amplifier at MTT-S IMS 2015 (Booth 3226) in May, 2015.
This amplifier is a 1kW amplifier in a 5U chassis. It includes an integrated dual directional coupler and instrument grade power metering.
It offers different operational modes and power settings including: Automatic Gain Control (AGC) with peak power detection, AGC with RMS power detection, automatic level control (ALC) with RMS power detection, ALC with RMS power detection, manual gain control, AM, CW, gated pulse, modulated pulse, digital and more.