KP Performance Antennas, an Infinite Electronics brand and a manufacturer of wireless network antennas, has just released new 2-foot and 3-foot antennas with Mimosa® B11 mounting kit options to its new series of ProLine 11 GHz parabolic antennas.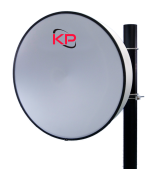 KP's new high-performance ProLine parabolic antennas are ideal for high-density, point-to-point backhaul applications or client-premises and operate in the 10.7 GHz to 11.7 GHz frequency range. They are offered in 2-foot and 3-foot diameters and deliver gain performance of 34.4 dBi and 39 dBi respectively. These antennas are engineered to suppress side-lobes and back-lobes and are excellent at rejecting interference. They feature rugged construction with a patented 6-point mounting connection for set-and-forget installation.
These antennas deliver SISO or 2×2 MIMO for increased capacity and boast 155 mph survival wind speed. They are offered with dual-polarized N-type connector or direct connect options. The 2-foot model is a high-performance ETSI Class 2, FCC Cat B antenna, and the 3-foot model is an ETSI Class 3, FCC Cat A antenna. Both models come with either a Mimosa® B11 or Ubiquiti airFiber® 11FX direct connect kit.
"Our new 11 GHz ProLine parabolic antennas combine durability, ease of installation, and quality. They come pre-assembled from the factory for simple installation, ensuring factory tested quality and reducing deployment costs," said Justin Pollock, Antenna Product Line Manager.
KP's new 11 GHz ProLine parabolic antennas are in stock and can be ordered directly from any of KP's authorized distributors or from the KP Performance Antennas website at www.kpperformance.com.