Elmsford, NY January 2018 – ITG Electronics, a leading manufacturer of Inductors and Transformers in business since 1963, now offers a range of common footprints as well as custom Wireless charging coils for sophisticated wire free applications.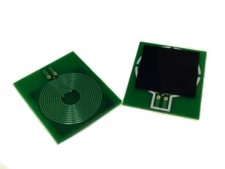 A wireless charging coil transfers power from one coil, connected to a power source, called a transmitting coil, through the air to another coil, connected to the load, called a receiving coil. The current in the transmitting coil generates an electromagnetic field, which can freely propagate through the air suffering minimal power loss, especially over short distances. This electromagnetic field then acts on the receiving coil to create a current energizing the load.
Wireless charging technology has garnered tremendous interest over the recent years for applications in the ever-expanding mobile consumer electronics sector. Here at ITG, we have applied our 50+ years of expertise with inductors to create our own diverse line of state of the art wireless charging coils.
For more information, visit www.ITG-Electronics.com, ITG Electronics, 175 Clearbrook Elmsford, NY 10523 Email: [email protected]
ABOUT ITG ELECTRONICS INC:
ITG Electronics headquarters is Elmsford, New York. ITG specializes in wire-wound power magnetic components design, product development and manufacturing. ITG is a preferred supplier for magnetics components to many US and worldwide major electronics OEM's.
ITG factories are TS16949, ISO9000, ISO14000, OHSAS18000, QC0800000, ISO14064 Certified.