Heilind Electronics, a premier distributor of electronic components and authorized global distributor for HARTING, is now offering the manufacturer's Han 1A connector system. The series, which includes rectangular connectors, housings, and inserts, is universally deployable for Industry 4.0 applications.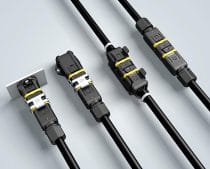 The Han 1A system is designed to help users build their own connectivity solution using just a few standard parts. The a la carte configuration utilizes modular inserts for data, signal, and power transmission, while accommodating a variety of wire terminations, locking mechanisms, strain reliefs, and mounting methods. Ultimately, this translates into reduced inventory and costs.
The new Han 1A system features a simplified click-and-mate design that allows tool-free assembly in just seconds. Another major advantage of the system is its space-saving capability. Compared to the Han 3A series—previously HARTING's smallest offering in its Han Industrial line—the Han 1A uses 30 percent less space.
While it offers miniaturization, HARTING's Han 1A connector system also features a robust design: Only a few additional components are required to create an IP65-rated, dust-proof solution for harsh environments.
Because of their versatility, compact design and durable architecture, Han 1A interconnects are ideal for engineering and robotics applications involving small drives, sensors, actuators, and devices. These products are particularly suited for production facilities and for the connection of tools or small machine modules.
Visit Heilind's website for more information about the HARTING Han 1A Modular Connector System.