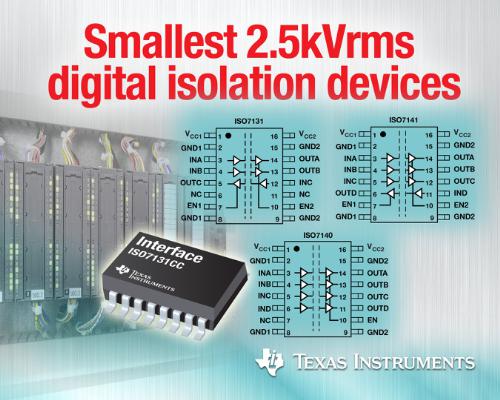 Semiconductor design and manufacturing company Texas Instruments has released new 2.5-kVrms digital isolation devices.
Reducing board space without compromising protection from lower isolation ratings or EFT surges is increasingly important in industrial automation applications, such as programmable logic controllers (PLCs) and sensors, and fieldbus applications, such as DeviceNet, CAN and RS-485, the company said. The low-power ISO71xx family of isolation devices meets these demands by offering up to 2.5 times higher common-mode transient immunity and 30 percent better maximum working voltage compared to similar devices.
The ISO71xx family includes six triple and quad devices based on integrated silicon dioxide capacitors and provides both resistance to electromagnetic interference (EMI) and lower EMI radiance for increased reliability in harsh environments. To further enhance performance, the devices also incorporate a glitch filter to smooth operation at lower frequencies. The ISO71xx family measures 50 percent smaller than traditional SOIC isolation devices and features a power rating of approximately 1 mA per channel.