Ford is turning to outer space for inspiration in its latest project for connected vehicle technology.
Researchers from the automotive giant will collaborate with St. Petersburg Polytechnic University in Russia on a three-year research project to observe the communication models of robots in space, with the aim of making connected vehicle networks more reliable.
This project is part of an ongoing effort by Ford, as well as other companies in the industry, to develop smart networks that will connect road vehicles, surrounding infrastructure and emergency services together. While such a network could provide drivers with more extensive entertainment services, such as the ability to stream music over the internet in-car, it could also be used to help prevent accidents, save lives, ease traffic congestion and reduce fuel emissions by alerting drivers to conditions around them.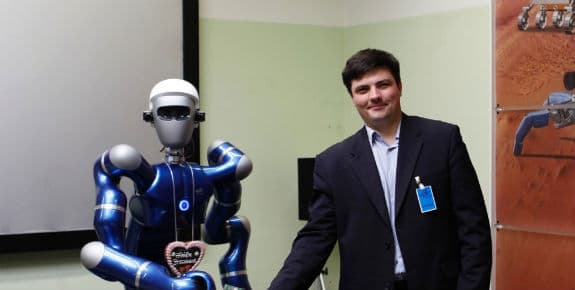 Ford hopes that an examination of telematics—the long-distance transmission of digital information—developed for use on the International Space Station will provide insight into how to improve the reliability of connected car communications.
"We're actually trying to utilize the tools NASA has developed for communication between the space station and earth, and we're trying to use this tool to apply it to vehicle-to-vehicle and vehicle-to-infrastructure communication." technical lead Oleg Gusikhin of the Ford Vehicle and Enterprise Sciences Research Laboratory said in a video released by the company. NASA has invested billions of dollars to ensure robots are able to simultaneously communicate with each other, with astronauts in the ISS and with personnel located back on Earth without interference or malfunction. Connected vehicle technology faces a similar challenge in needing to successfully direct information with varying levels of importance through multiple channels.
"We are analyzing the data to research which networks are the most robust and reliable for certain types of messages, as well as fallback options if networks were to fail in a particular scenario," Gusikhin added. "In a crash, for example, a vehicle could have the option to communicate an emergency though a DSRC, LTE or a mesh network based on the type of signal, speed and robustness required to reach emergency responders as quickly as possible."
Ford is considering the development of a single platform with multiple communications technologies on it—including dedicated short-range communication (DSRC), cellular LTE wireless broadband and mesh networking—that will include a smart switch capable of changing between networks as needed. An emergency message, for example, would be sent through the faster mesh network, while a lesser priority message such as an entertainment-related message would route through a vehicle-to-infrastructure application or paired device network. In addition, if one network fails or is incapacitated, another can pick up the slack to ensure the vehicle's ability to communicate is not compromised.
"The research of fallback options and robust message networks is important," Gusikhin said. "If one network is down, alternatives need to be identified and strengthened to reliably propagate messages between networks."