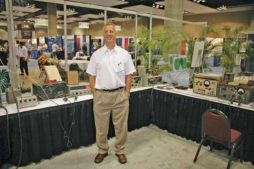 EMC and Its Role In Reliability
by Ken Javor, EMC Compliance
Totally anecdotal, but this just happened to me.
My wife uses a powered wheelchair. A very high end, high quality chair. We were on vacation driving north and had just crossed the 45th parallel in the state of Michigan. The 45th parallel anywhere is halfway between the equator and the North Pole. In Michigan it's also halfway to nowhere, and it was there my wife's chair broke down.
The chair weighs close to 250 pounds empty, and is not much fun to move around less the electric motors, especially say up and down the handicap van's ramp. The chair has enough smarts to give you a code when something fails. Maybe not the correct code, but a code. In this case, it told us the joystick module had gone bad, so we called a repair place and got one ordered to be sent to the place we were headed. I mentioned we were in the middle of nowhere, but we had pulled over in a cell phone-serviced spot just off I-75 because I was supposed to support a telecon with a customer and I had been looking for just such an oasis.
While looking at the chair, I saw a cable had been abraded and the sheathing was damaged and so were internal wires. I repaired those, and although that cable had nothing to do with the joystick module, once I got it repaired the fault code changed to bad power module cable. We haven't priced the joystick module, because essentially price was no object with the chair stalled at the side of the road north of the 45th parallel, but I know it will be well north of $500 US. Seeing a new code unrelated to the joystick module did not lighten my mood.
Several days later after cooling our heels at what is called the "tip of the mitt", the northern most point of Michigan's lower peninsula, the new joystick module arrived and I installed it and got the same cable fault code as before and no life from the chair. So I removed all the chair plastic covers and traced the cable from the joystick module back to its other end, and I ended up at two plastic connectors with various wires emanating, and ferrite cores around them.
Now we are finally getting near the end of the shaggy dog story. Or maybe not the end, but the beginning of the end. Or maybe just the end of the beginning. But I digress.
One of those connectors or a wire/pin connection within had loosened and when I pushed on it, the chair woke up and worked. So clearly an intermittent. The chair is several years old, so this was not some sort of infant mortality problem, nor something to be caught by QA before shipping the chair. The ferrite cores I mentioned earlier are not the typical snap-on type, but they are actual toroids around which one could wind a choke or transformer. But they weren't so wound; they were just encircling the cables. Anyway, pushing on one of the two cores caused the intermittent to change states, so clearly over time that heavy core bouncing around the cable had caused something to open up.
So the lesson here is that adding EMI fixes can actually decrease reliability. Stating that in some circles where EMC is held to be a reliability issue is nigh on to heresy and can literally cause a violent argument. I could tell that story, but I won't.
But it is in fact the case that adding parts decreases reliability – it's just probability theory. Snapping a core around a cable at the last minute may be attractive and relatively risk-free on a piece of portable electronics, but when it is a vehicle and/or people's lives depend on its functionality, then the modification must be subjected to review.
Related to this problem, I once worked a spacecraft that had a long RS-232 cable interface, for which they had chosen some very fast logic family, and the cable was electrically long relative to the transition time. There was considerable ringing on leading and trailing edges, and there was an expressed concern that such ringing could look like an extra bit. The fix here was to slow down the rise time (the data rate was OTOO 100 kbits/sec), but no one wanted to change anything, so I suggested one of these press-in connector filters (ee-seal by Quell), and that was demonstrated to work. But the ancient program manager, confronted with this news, asked the question: "Do capacitors fail open or closed?" The answer was "closed." The program manager, the recipient of no telling how many whippings by Murphy, responded, "Not on my spacecraft," and that was that.
Intelligence guided by experience.
Mr. Javor has worked in the EMC industry for over 30 years. He is a consultant to government and industry, runs a pre-compliance EMI testing facili
ty, and curates the Museum of EMC Antiquities, a collection of radios and instruments that were important in the development of the discipline, as well as a library of important documentation. He can be reached at ken.javor@emccompliance.com.