Test and measurement instrument provider B&K Precision has announced the launch of its 4050 series, a line of four dual channel function/arbitrary waveform generators. These new instruments can generate waveforms up to 50 MHz for use in education and applications requiring stable and precise sine, square, triangle, and pulse waveforms, with modulation and arbitrary waveform capabilities.
Equipped with a 14-bit, 125 MSa/s, 16k point arbitrary waveform generator, the 4050 Series provides users 48 built-in arbitrary waveforms and the ability to create and load up to 10 custom 16 kpt waveforms using the included waveform editing software via standard USB interface on the rear. An optional USB-to-GPIB adapter is available for GPIB connectivity.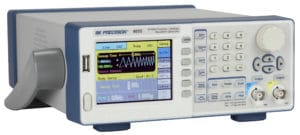 All models are dual-channel, providing a main output voltage that can be varied from 0 to 10 Vpp into 50 ohms and a secondary output that can be varied from 0 to 3 Vpp into 50 ohms. Their large 3.5" color LCD display, rotary control knob, and numeric keypad with dedicated waveform keys and output buttons make waveform adjustments quick and effortless.
The 4050 Series offers a wide variety of modulation schemes for modulated signal applications: amplitude and frequency modulation (AM/FM), double sideband amplitude modulation (DSB-AM), amplitude and frequency shift keying (ASK/FSK), phase modulation (PM), and pulse width modulation (PWM).
Other standard features include linear and logarithmic sweep function, built-in counter, Sync output, trigger I/O terminal, and USB host port on the front panel to save and recall instrument settings and waveforms. Additionally, a standard external 10 MHz reference clock input is provided for synchronization of the instrument to another generator, a feature not typically found in generators at this price point.