Dolphins have inspired British researchers to create a new type of radar device that can detect hidden surveillance equipment and explosives and help locate buried avalanche or earthquake victims.
According to New Scientist, the idea came to Timothy Leighton of the University of Southhampton's Institute of Sound and Vibration Research while he was watching a nature show. After observing dolphins blow clouds of bubbles from their blowholes to corral fish, Leighton wondered how dolphins were able to distinguish the fish from the bubbles, since the bubbles would have reflected the animals' sonar.
"Even the best man-made sonar couldn't distinguish between the fish and bubbles," he told New Scientist. "There had to be something else going on."
Leighton experimented with different forms of acoustic signals, discovering that a large pulse followed by a small one could reflect sound waves in such a way as to allow fish and bubbles to be easily distinguished. Applying the same technique to work with radio signals yielded a radar system known as the twin inverted pulse radar (TWIPR). By generating a signal consisting of two pulses in quick succession, one identical to the other, but phase inverted, the new radar system can distinguish certain types of electronic components that may be used in explosive devices from metallic 'clutter' like pipes and soda cans that may be mistaken for a genuine target by traditional radar systems and metal detectors.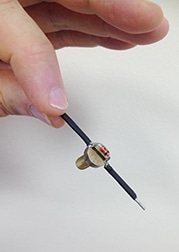 Leighton, along with Professor Paul White and students Dan Finfer and Gim Hwa Chua, teamed up with Professor Hugh Griffiths and Kenneth Tong, Ph.D. of University College London and David Daniels, Ph.D. of Cobham Technical Services to test the radar system. The team applied TWIPR radar pulses to a designated target—a dipole antenna with a diode across its feedpoint—to determine whether the radar could distinguish it from 'clutter' represented by small aluminum plate and a rusty bench clamp. In the test, the target showed up 100,000 times stronger than the clutter signal from an aluminum plate. The study, "Radar Clutter Suppression and Target Discrimination Using Twin Inverted Pulses" is published in the journal Proceedings of the Royal Society A.
According to Leighton, the small, inexpensive-to-build radar is extremely valuable in certain situations.
"If you have bombs hidden in roadside rubbish like plastic bags, wood scrap, bike wheels and drinks cans it distinguishes the interesting devices – those containing metal wires and semiconductors – so you might pinpoint a bomb circuit for instance," he told New Scientist. Following an earthquake or other natural disaster, the technology could help locate victims buried in rubble by pinpointing electronic devices they may be carrying, such as a cell phone. Leighton believes the technology could also be extended to other radiations, such as magnetic resonance imaging (MRI) and light detection and ranging (LIDAR).