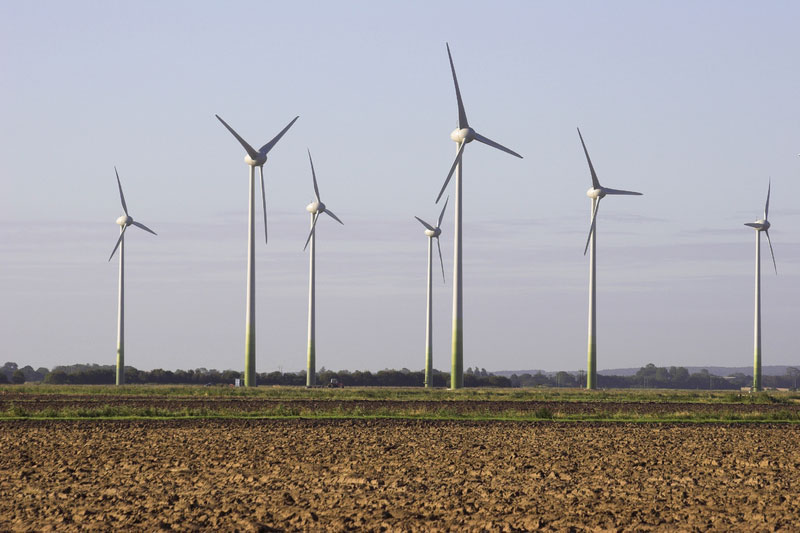 The U.S. Department of Energy (DOE) and federal agency partners have completed the final operational field test of a two-year, $8 million program to evaluate the physical and electromagnetic interference between air surveillance radar systems and wind turbine farms, and identify possible mitigation techniques. The project was co-funded by the DOE, the U.S. Department of Defense (DOD), the Department of Homeland Security (DHS) and the Federal Aviation Administration (FAA) and managed by Sandia National Laboratories and the Massachusetts Institute of Technology's Lincoln Laboratory.
Air traffic control radar interference is often caused by backscatter from the large rotor blades on wind turbines in close proximity with airports. Appearing as a large "clump" on radar screens that can be mistaken as a thunderstorm or other weather phenomenon, the interference, known as "wind turbine clutter," masks the air traffic control radar system's ability to identify the position and altitude of nearby aircraft, affecting air traffic control's ability to direct aircraft.
According to the DOE, wind generation capacity in the United States is expected to supply up to 20 percent of the nation's electricity by 2030. To safely accommodate this expected growth, new, more sophisticated technologies are required to mitigate the interference effects of wind turbines on radar systems.
As part of the field tests, a variety of aircraft types flying at a range of speeds were evaluated at air traffic control radar locations with nearby high concentrations of wind turbines in Minnesota and Texas.
In addition to managing the project, Sandia National Laboratories and Lincoln Laboratory also provided data analysis capabilities, using data from three flight campaigns to "establish baseline capabilities for three national airspace radar systems and test eight mitigation technologies on short- and long-range (60 and 250 nautical miles) radar systems."  With the addition of data provided with wind farm owners, the laboratories were also able to identify the effects of wind turbine interference and predict the effects on similar radar systems in other locations "with a much higher level of confidence."
Technical support for the long-range radar systems used in the project was supplied by the FAA and the DOD. The FAA also provided flight operations management and air traffic control support, while test aircraft, flight tracking and air operations support was provided by the DOD, DHS, DOE and the National Oceanic and Atmospheric Administration.
The results provided by Sandia National Laboratories and Lincoln Laboratory will be used to develop immediate temporary interference solutions for implementation into the national aviation system, the DOE said. A longer-term, more permanent solution to combat interference from both land-based and offshore wind turbines is also in development.