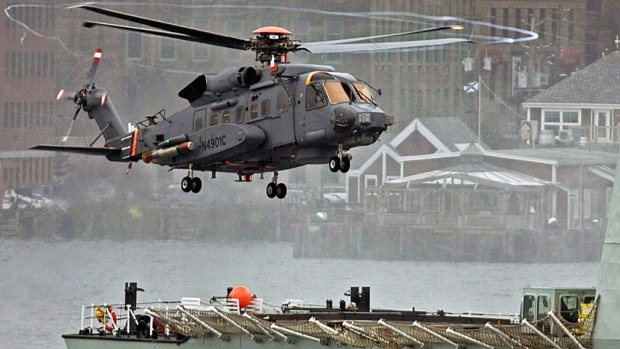 Electromagnetic interference concerns are hampering progress on a Canadian Air Force project.
According to The Canadian Press, the Canadian government has refused to accept four CH-148 Cyclone test helicopters currently parked at the Canadian Forces facility in Shearwater, N.S., on the basis that they are "non-compliant." Designed by Sikorsky Aircraft Corporation, the twin-engine CH-148 Cyclone helicopters are slated to replace the CH-124 Sea Kings, which have been in operation since 1963.
However, the Canadian news outlet reports, defense sources with intimate knowledge of the program have elaborated on the public report, saying that certain flight systems, including a computer that runs the engines, are not considered sufficiently shielded against powerful electromagnetic waves. The electromagnetic waves could potentially scramble the digital instruments and shut down the engines.
Earlier this year, the directorate of airworthiness at the Department of National Defence and the Canadian Armed Forces cited electromagnetic compatibility, electromagnetic vulnerability and electromagnetic interference concerns in its decision to impose flight restrictions on the CH-148 Cyclone helicopters.
"Each of them [the concerns] are potential show-stoppers," a defense source, who asked for anonymity, told The Canadian Press.
"The vulnerability depends on the frequency and the strength of the signal. You have the potential of losing your instruments and not knowing where you are, and having to take visual cues from outside your aircraft to get down safely."
Air Force engineers and government officials are increasingly skeptical regarding whether or not the shielding problem can be sufficiently remedied in a reasonable amount of time. Initially scheduled to be ready for service in 2008, only a few Cyclone helicopters have thus far been delivered for testing. The project is five years behind schedule and over-budget.
"The aircraft was not designed from the ground up with this kind of shielding in mind," the defense source told The Canadian Press. "Military aircraft, the skin of military aircraft, [is] sometimes embedded with a fine copper screen or mesh to prevent the intrusion of electromagnetic interference." The CH-148 Cyclone helicopters, however, are based on a less-rugged civilian design.
Sikorsky declined to comment on the technical concerns on the basis that the contract forbids the company from publicly discussing certain aspects of the program. Public Works, who manages the contract on behalf of National Defence, similarly declined to offer specific details, saying only that they are working on the problem.
"At some point, someone should say enough is enough," defense expert Michael Byers, of the University of British Columbia, said. Byers documented the Conservative government's struggles with the Cyclones in a report earlier this year. "The question is, when are they going to stop messing around and deliver a highly functioning maritime helicopter for the men and women of the Canadian Forces?"