While there are a number of affordable spectrum analyzers available to the product designer or EMC engineer, such as the Rigol DSA800-series or Siglent SSA3000X-series, I discovered an extremely low cost analyzer useable for general-purpose EMI troubleshooting. This tiny module (Figure 1) is actually a high quality software defined radio (SDR) that can tune from 24 MHz to 1.8 GHz and is sensitive down to -130 dBm. If you need to go down further in frequency, they have the companion Spyverter that tunes from DC to 60 MHz. Both units are controlled via USB and the processing is performed by a standard PC running Windows.
A special effort was made to provide shielding and I/O connector transient protection. The cost for the AirSpy is just $199 and the Spyverter is an extra $59. Both may be ordered from http://www.airspy.com.
What's really cool is that you can brag about being able to carry a spectrum analyzer in your pocket. It will also easily fit in a briefcase, along with your PC laptop and troubleshooting probes. No more carrying around a 40-pound analyzer!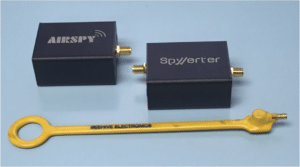 Figure 1 – The AirSpy software defined radio (on left) may be used successfully as a budget spectrum analyzer. Also shown is the Spyverter low frequency converter (on right) allowing tuning from "DC" to 60 MHz. The Beehive Electronics 100C H-field probe is shown for comparison.
When driven from the free "Spectrum Spy" PC-based software, AirSpy can display a relatively accurate spectral plot (Figure 2). Note, also, the "waterfall" display feature, that records frequency versus time. This is useful for tracking down intermittent EMI pulses or radio transmissions. In addition, the software allows a continual recording of the emission to the PC's disk drive (up to its capacity).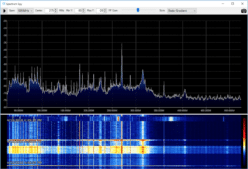 Figure 2 – The AirSpy measuring the emissions from an embedded processor board. The 270 MHz processor clock may easily be observed.
The AirSpy web site includes links for a variety of useful software applications. The commonly-used "SDR#" (pronounced "SDR Sharp") may be used and can display a span of 10 MHz at a time.
I also recommend downloading the SpectrumSpy application, as that more closely duplicates the controls of a normal spectrum analyzer. There are a lot of niceties, such as measurement in dBuV, max hold, markers, adjustable resolution bandwidths, etc., that are missing, but the SpectrumSpy does work nicely for general measurements. Center frequency, span, and upper/lower frequency limits may all be specified. One nice thing is that the span is not limited to just 10 MHz, but can display a wide band of frequencies – much more useful for EMI troubleshooting. Note that the amplitude is only available in dBm.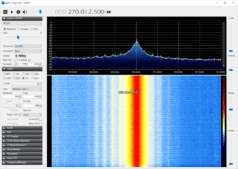 Figure 3 – Here is a screen capture of the embedded processor clock at 270 MHz, with the waterfall display underneath. In this case, we're demonstrating the use of the SDR# application, which may be used as a receiver and can demodulate AM or FM broadcast stations. It's handy as a spectrum monitor and can help pin down interfering signals.
Figure 3 shows a sample of the SDR# application. It is a more general tool for monitoring radio communications and broadcast stations. It can demodulate AM and FM signals. There are a number of built-in features and the AirSpy web site includes much more detail on the operation.
I find the frequency accuracy is excellent and the amplitude accuracy is decent, as well. I'm not sure I'd use this product for pre-compliance testing, but for general troubleshooting and educational use, it should perform well.
Other reviews:
http://www.rtl-sdr.com/review-airspy-mini/
http://www.rtl-sdr.com/review-of-the-spyverter-upconverter/