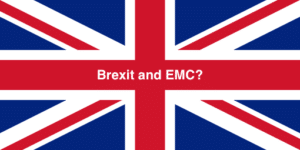 Editor's Note (Updated June 27, 2016): Britain has voted to leave the European Union, a monumental decision that's triggering some serious alarm bells throughout the country. As it stands, many UK laws and regulations are determined by EU legislation and it's not immediately clear what the EMC standards ramifications in Britain will be during the two year transition and in the future after that.

There's still a long road ahead, and many of the concerns expressed by the EMC standards community are likely to be addressed in the coming negotiations. Panic is obviously not the way to go, and to understand the issues with more clarity, I've asked John Woodgate and Keith Armstrong, product regulations/EMC consultants and standards experts in England, to provide some initial analysis. Both of these consultants are based in England, so have a unique perspective as events unfold. As the transition takes place, you can depend on Interference Technology to help inform and clarify the issues as the transition progresses.

In the meantime, we would invite your comments on the issue. See below.

K. Wyatt


Britain after Brexit, with the accent on EMC – Part 1
by John M. Woodgate, BSc(Eng) C.Eng MIET SMIEEE FAES HonFInstSCE
(June 24, 2016) – What is the future for Britain after the historic 'Brexit' vote to leave the European Union? It's very early days – as early as you can get, in fact – but there are some signs. Controlling factors can be described as 'Dame Luck and the Lame Duck'.

Dame Luck is market sentiment, always volatile but in this case reason appears to be holding. The British stock market bubbled up before the vote, so the post-vote fall has really returned the market to where it was ten days ago. The Lame Duck is Prime Minister David Cameron, who says he will resign, but not till October, so until then the government will be hamstrung, both at home and abroad.
This may not matter if enough of British industry takes advantage of the drop in the value of the pound sterling to combat rising material costs by increasing export sales. There are always some with enough insight (and low enough debt) to do that. Every economic change allows someone to make money, and it doesn't have to be bankers. The EU leaders are pressing for a quick resolution, perhaps even shorter than the two-year period embedded in the treaties. That is likely to benefit industry, especially if British leaders use that appeal for speed to toughen their negotiations.
So what does this mean for EMC? We are in the age of world markets, so obviously British industry will continue to fulfil all significant market entry requirements, such as respecting EU Directives and applying European standards (ENs). If Britain joins EFTA (European Free Trade Association), it will continue to participate in CEN and CENELEC, but with changed voting rights. If it doesn't join, it can choose whether to apply EU Directives (or a variant thereof) and CEN/CENELEC or ISO/IEC/CISPR standards, whichever is advantageous. ETSI standards are a different matter, while ETSI is nominally and originally 'European Telecommunication Standards Institute', it is de facto an independent non-governmental body, with world-wide activity, and there seems no reason why anything should change regarding British participation.
Of course, all this could be wildly wrong, and disasters forecast by the 'Remain' faction may happen. But most events are not beyond our control. We just have to be clever enough to control them correctly.
Britain after Brexit, with the accent on EMC – Part 2
by Keith Armstrong, Consultant, Cherry Clough Consultants Ltd.

Yes it is big news, but I don't feel that I have anything very significant to say about how the issues you mention might be affected.

All I can say is that, from my point of view as a design consultant, whatever country I am working in (most recently Australia, New Zealand, Belgium and England, UK) if my customers want to sell to the EU they must declare compliance to all relevant EU Directives and most find that easiest to do by declaring that they have applied all the relevant standards that have been notified under those Directives in the OJEU.

As far as I can see, this process and its associated documentation is exactly the same for any country in the world that is outside the EU – as it is for manufacturers in Belgium and in the UK (both of whom are currently Member States within the EU).

I suppose that if the UK actually left the EU (which is by no means a certainty, and anyway would most likely take 2 or more years to happen) UK experts would no longer be involved with creating EN standards. But as EN standards are mostly based on international standards anyway, and UK experts would still be involved on those international committees, I don't see any big changes happening.

It is interesting to note that even though the UK is still a Member State within the EU, it has not yet published National Regulations corresponding to the new EMC or LV Directives which came into force on 20th April 2016 (2104/30/EU and 2014/35/EU respectively).

Normally we in the UK would have seen draft UK Regulations at least a year in advance of the date when new EU Directives required National Regulations to be enforced, but not this time.

Quite possibly this same situation applies to all the other EU Directives which came into force on that date, too.

I am told that enquiries by others were told by the responsible UK government departments that they were waiting for the outcome of the referendum.

So it is already the case that manufacturers in the UK have National Regulations that are not harmonized with the corresponding EU Directives, just like manufacturers in China, Japan, the USA, or anywhere else outside the EU!