The magnets embedded in the body and accessories of Apple's iPad 2 tablet computers may interfere with implanted cardiac rhythm devices (CRD) and could potentially kill a user in their sleep, a new study presented at the Heart Rhythm Society's annual conference has suggested.
Fourteen-year-old high school freshman Gianna Chien of Stockton, Calif. made her presentation—initially organized as part of a school science fair project—to more than 8,000 doctors at the Heart Rhythm Society's 34th Annual Scientific Sessions conference in Denver, Colo. last week.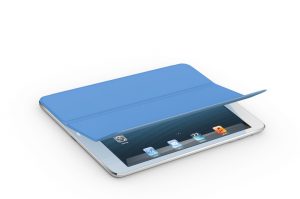 As a safety precaution, implanted defibrillators are designed to turn off in the presence of external magnets, with most—but not all—turning back on once the magnets have been removed. While the magnets in Apple's iPad 2 tablets, "Smart Cover" and "Smart Case" accessories are not powerful enough to cause problems when the device is held in front of the chest, it can be dangerous to rest it against the body, Chien said. If a person with an implanted defibrillator falls asleep with the tablet on their chest, it can disrupt and "accidentally turn off" the cardiac implant, resulting in the suspension of anti-tachycardia therapy.
Chien and her partners, with assistance from father Dr. Walter Chien, a cardiologist with Central Valley Arrhythmia in Stockton, Calif., evaluated the effects of the iPad 2 with active and inactive cellular data on the original and "most sensitive" programming settings—including unipolar sensing configuration in pacemakers—of cardiac devices manufactured by St. Jude Medical and Medtronic.
A total of 19 participants with CRDs were studied at the time of the presentation, including 16 subjects with defibrillators, two subjects with pacemakers and one subject with a loop recorder. Participants were asked to hold the iPad 2 at reading distance and on top of their chests to mimic falling asleep while using the device. The effect of the iPad 2 on CRDs in their original packaging was also assessed.
According to Chien, "magnet mode" was triggered 18.8 percent of patients with defibrillators who placed the iPad 2 against their chest. Two participants reportedly "exhibited magnet mode trigger, while an additional subject exhibited magnet mode trigger followed by initiation of the non-invasive program stimulation mode." No noise or oversensing was noted in the packaged or implanted CRDs, and no effects of any kind were observed in the pacemakers or loop recorders.
Apple spokeswoman Trudy Muller declined to comment on the results of the study in an e-mail, instead referring questions regarding the iPad 2's safety to the online product guide, business and financial market news provider Bloomberg reported. The product guide cautions about radio frequency interference and suggests users with pacemakers, defibrillators or other implanted medical devices keep the device at least six inches away from their chest.
Medtronic Inc. said in a statement that current testing completed by the company shows no risk of interference between iPad technology and Medtronic implanted cardiac devices when used according to the manufacturer's instructions, but advised patients with an implanted cardiac device to follow Apple and Medtronic labeling recommendations and maintain a distance of six inches between the iPad and implanted device "as a precaution."
A statement from St. Jude Medical was not available at press time.
Chien hopes her findings will encourage patients with implanted defibrillators to talk to their doctor about precautions to take when using an iPad 2.
"I definitely think people should be aware. That's why I'm presenting the study," she said.